My Experience with Virtual Reality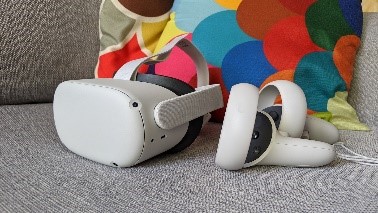 Over the past holiday season, I was lucky enough to receive a virtual reality headset called the Meta Quest 2. After spending some time learning about this new device I thought I would share my experience with virtual reality as a whole.
First things first, I want to comment on how user-friendly the Meta Quest 2 is – the instructions for booting it up were very simple and clear. Not only that, the controllers for the device mimic other well-known device controllers, such as the Xbox and Nintendo Switch. This is great for those already familiar with those devices and makes it simple enough for new players to learn.
Upon entering the virtual world itself, I was met with a slight barrier. This barrier was downloading games – some of the most popular games cost anywhere from $15 to $30. After a quick Google search and downloading the app paired with Meta Quest 2, I saw that there were several enjoyable, free games to try.
After playing some games on the new headset, I took a moment to relax and return to the real world. The first thing I noticed was that my eyes hurt and I felt awfully dizzy. This general discombobulation struck me hard, I had to lay down for a spell and it seemed like my side effects would never cease. However, after about 10 minutes I felt better and went on with my day.
In conclusion, I would rate the Meta Quest 2 headset pretty well, it is an enjoyable experience for those who both do and don't often play video games. Despite causing general dizziness at first, I believe this side effect subsides over time and allows for better gaming sessions once one gets used to it. I hope to continue exploring the virtual world in this positive manner and writing about any new striking experiences. Thank you and I hoped you enjoyed my review of the Meta Quest 2.