This Poison Heart – Book Review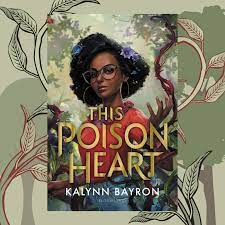 This Poison Heart by Kalynn Bayron is the perfect read for anyone looking for a fantasy novel that transports them to another reality. This Poison Heart follows Briseis, a girl that can bend plants to her will. One day she inherits a manor from her aunt that holds secrets of her family that she never knew existed. When she starts to run the old apothecary found in the house weird events start occurring to her that have no explanation. Briseis learns to control her powers while being roped into a centuries-long feud that can cost her the lives of the ones she loves. 
Overall, this novel is an immersive piece that can make anyone regret not reading it sooner. It has settings that include Brooklyn and a small town in upstate New York of which the author does a great job of painting a vivid picture for her readers. The characters are well developed and have distinct characteristics that allow the reader to visualize the story unfold before them. 
This novel is a contemporary fantasy that incorporates Greek mythology and botany while leaving the reader with a drive to keep reading. This is a great option for any fan of fantasy that is looking for a quick and satisfying read.