Final Fantasy VII's Remake Blasts onto the PS4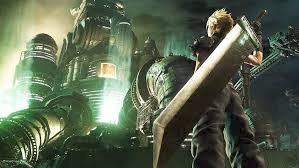 Twenty three years following its initial release, Final Fantasy VII receives a remastered edition unlike any other. Developed by Square Enix, the same developers of the original, FFVII's Remake takes place in the same world as the original, yet shifts the action and story heavily enough that it is a fresh experience to new players and those who have played the original. 
Its gameplay deviates from the original, opting for real-time attacks and freezing time in action menus, akin to the newer installments of the series. In terms of story, this installment contains many of the base events of the original yet ends up changing a lot of the plot in addition to having cutscenes that show off more life in the characters, essentially rewriting the original and giving it new life. 
The adventure follows the iconic character Cloud, who joins members of AVALANCHE in order to take down the evil corporation Shinra from industrializing and polluting the world. Quickly, however, it becomes a spiral into Cloud's lost memories and past, mythical creatures known as espers, the plans of Sephiroth, and a quest to prevent the downfall of the planet. Altogether, Final Fantasy VII is a cult classic whose remake is already making waves in the video game industry through its updated graphics and gameplay, offering a new spin on an old tale. The first part of the story is already out as a timed-exclusive for the PS4, and part two is yet to have a release date announced.