Movie Review – Knives Out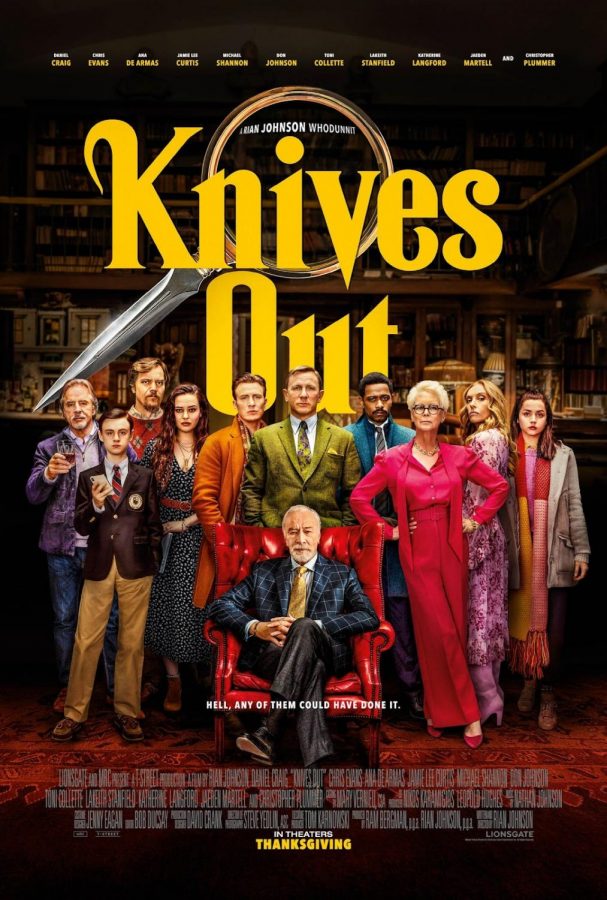 Knives Out, directed by Rian Johnson, is a murder mystery/comedy movie that premiered in November of last year and has become incredibly popular. The current box office for the movie is $199.5 million dollars, making up for the $40 million dollars spent on the budget. 
It is safe to say that Knives Out is an above average movie for the genre it falls under, and not just because of the A-list cast. Chris Evans, Jamie Lee Curtis, Daniel Craig, and Frank Oz are among the most notable actors in the film alongside rising stars Ana de Armas, Katherine Langford, and Jaeden Martell. The movie has a spectacularly written plot and a beautiful setting, all adding to the typical 'murder mystery' aesthetic with a a few twists to it.
To start with, Rian Johnson commented on his inspiration for the movie, discussing how old Agatha Christie novels were the biggest motivation behind the story and aesthetic. The interesting part about the film, though, isn't just the callback to classic murder mystery novels; it is who the main character is. 
Marta Cabrera (Ana de Armas), is a private nurse in the movie and who one would least likely expect to be the main character. She is simply a kind person trying to make a living by caring for Harlan Thromby, an aging writer who made millions off of his novels. Her character is a perfect contrast to Thromby's family- Three generations of spoiled, ignorant, money-hungry people who all have skeletons in their closets. 
In her words, de Armas described the very important role her character plays in the story, "'I could never think that a Latina in this scenario would just have that much presence and also be highlighted with all these good values,' said de Armas, 'She is the moral compass of the story and the heart of the story'" (gulfnews.com). 
Without giving much away, Knives Out is more than just a murder mystery in the respect that it isn't just focused around finding the killer. 
Actor Don Johnson seemed to describe it best, "a humorous and honest look at 'how entitled people behave towards immigrants and people of color'" (gulfnews.com). 
Overall, Knives Out is a visually interesting, gripping story accompanied by elements of humor and social commentary, making the perfect blend of themes for a modern film. If you are looking for a good laugh, engaging action, and to see popular actors working alongside rising stars, Knives Out is the movie for you.