Animal Crossing: New Horizons Is Just On The Horizon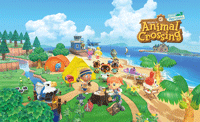 For years, life simulation games have found their way onto the market, seeking to either replicate real life as closely as possible, such as the near infinite customizations of The Sims, or place a spin on the concept and introduce other elements, such as the farming and combat elements in games like Stardew Valley or Harvest Moon. Making an otherwise new twist in a genre that is assumed to be generic, the Animal Crossing series has found its way into the hearts of many through its characters being varying types of animals and the charm of its dialogue. As such, it is no surprise that there is a lot of excitement over its newest title releasing March 20 of 2020, Animal Crossing: New Horizons.
Previous Animal Crossing games had the player take control of a villager in a town full of animals and essentially have them help form the town through interacting with villagers (of which there are over 300 that can move in and out of town), fishing, bug catching, scuba diving, searching for fossils, planting trees, and many other activities. The player character is customizable through buying various items of clothing, masks, boots, etc., as well as customizing their house, of which there are countless accessories and furniture. The game takes place in real time, which allows for events like a New Year's countdown, building a snow-family in winter, and experiencing different creatures during different parts of the year based on real life animals.
In New Horizons, the previous functions of the game have been expanded greatly. As seen in the various reveal trailers, the game now has implemented a crafting aspect to obtaining tools, having players forage for materials like wood, stone, and weeds to create tools like axes, shovels, watering cans, etc. This completely changes the fundamentals of the design aspect of the game, as now some furniture items may be able to be crafted rather than bought with bells (currency in the AC world). The trailer also reveals the ability to use furniture items outside of the player's house, which is a concept not yet seen in any of the previous mainline games. Being able to use nearly any item outside as a decoration will add nearly limitless possibilities to customizing one's town in any way they see fit. Finally, the customizations of the player character has also increased, introducing a variety of new clothing options, as well as the ability to edit one's skin tone (achieved in previous games through "tanning" in the summer).
Altogether, Animal Crossing: New Horizons is a highly anticipated game by fans new and old alike, offering a variety of new mechanics to the series while also enhancing previous ones, all the while keeping its homely, calm, and welcoming charm.