Movie Review- Kiki's Delivery Service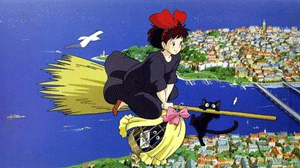 Growing up, the gorgeous visuals and music of the films of Studio Ghibli never failed to capture my attention. Each incredibly imaginative film always swept me up into a magnificent world of wonder and enchantment.
One movie in particular, Kiki's Delivery Service, is a personal favorite of mine. Kiki's Delivery Service follows a young 13-year-old witch named Kiki and her talking black cat, Jiji, who move into a seaside town. Kiki ends up starting a courier service, in which she delivers packages and mail while flying on her broom.
That's a rather simple premise, is it not? It's strange to think that such a basic and uncomplicated plot could delve its audience into a place of amusement and awe. However, the film's animation, soundtrack, and characters all make it into the alluring masterpiece that it is.
The film's animation is simply stunning! The characters and the world around them flowed beautifully, as if they were in constant sync. There was such great attention to detail in the animation that it made it effortless to get absorbed into the movie.
In addition to that, the characters of the movie were all so lovable and easy to get attached to. Their personalities and actions made them appear as though they were real people!
This all mixed together with the calming and cheerful songs, make it very entertaining to watch. As a result of all of these factors, it is easy to see how much hard work Studio Ghibli put into making this movie. Without them, Kiki's Delivery Service would not have been such a delight to experience.