Super Smash Bros. Ultimate – The Ultimate Fighting Game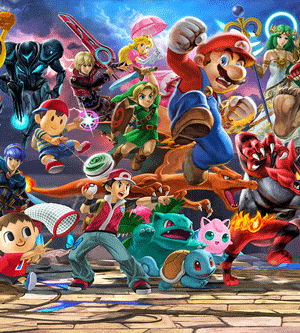 Hang on for a minute...we're trying to find some more stories you might like.
We all know the characters of Mario and Luigi, the two plumbers from the Mushroom Kingdom, and some may even know the green-clad hero of time Link saving Princess Zelda, but did you know that they are in a game pitted against each other?
Super Smash Bros. (SSB) is a fighting game series released by Nintendo and developed by Masahiro Sakurai with the first installment in the series releasing in 1999 and the latest game, Super Smash Bros Ultimate that hit the market on December 7th of last year. In the game, countless characters from beloved video-game franchises (such as Mario, Zelda, Kirby, and many more) are pitted against each other in a test of skill, each character having unique set of moves that they use to attempt to launch their enemies off of a variety of different stages and settings (Attacks rack up damage, and the higher the damage, the farther they are launched!). Over the years, the game has gathered quite a following from fans of games, offering a fun and skill-full match between friends to find out which player truly is the best.
Super Smash Bros. Ultimate contains many of the features of past installments, such as playing against others online, Classic Mode (being a set of challenges designed specifically for each character), and a story mode, named World of Light. In the story mode, all of the characters in the SSB series have been turned into trophies and by Galeem, Lord of Light, and have been used to make doppelgängers of the characters that are controlled by evil spirits. It is up to Kirby, the only survivor of the attack, to save his friends and defeat the doppelgängers created by Galeem. Along the way, he is able to unchain the fighters that were captured in the attack, allowing the player to use them as well, and recruit spirits from the battles, which give various effects to help the fighter on their journey.
One of the selling points of SSB Ultimate is the inclusion of all of the previous fighters in the series. For various reasons, some fighters had to be removed from each game, whether that be to include another character or due to hardware limitations. In Super Smash Bros. Ultimate, however, every single fighter from previous instalments have been included into the game, which, along with new characters, brings the roster to 74 characters at launch (with more on the way through downloadable content, or DLC). With the inclusion of a story mode (being World of Light), fun and intuitive gameplay, hours' worth of music tracks, and a full roster of unique characters from popular video game franchises, Super Smash Brothers Ultimate for the Nintendo Switch is sure to be a massive hit.