Greenwich Village's Forgotten Art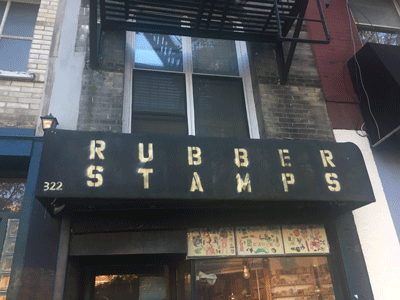 Hang on for a minute...we're trying to find some more stories you might like.
Tucked into one of the many side streets of the East Village, Casey Rubber Stamps is one of the classic niche shops one would expect to find in New York City. The owner and creator of the stamps, John Casey, is originally from Ireland and found his love of stamps when he was very young, "When I was a kid I was into coins. My dad had a dance hall and used to go to a print shop to have posters made. The shop did stamps too, and that was how I got into it." He spent two summers in America as a young man and eventually moved to New York City. It took him 12 years to find a machine to make his stamps, original designs cut from rubber and mounted on wood and used with ink pads.  The shop has now been in business for over 35 years.
When asked about his favorite part of the job, Casey replied, "I like finding great designs, I'm always looking for old books to find new designs to etch." He thoroughly enjoys his work, "I like the business, I get great customers who keep me amused. I get very few nasty ones." Casey's  amazing shop has an huge catalogue (https://www.caseyrubberstamps.com/index.php?/catalog) full of stamps of every kind imaginable. They also make custom stamps and sell ink pads in various colors.
Overall, Casey's stamp shop is a wonderful little location to check out for anyone visiting Greenwich Village. His ultimate message for people to take away from the shop is, "Stamps make a wonderful impression. They're fun, tactile, and do a great job." We wish Mr. Casey continued luck with his business, as artists like him make the city the creative hub it has always been.
Photography credit: Olivia Mistretta