Movie Review: Venom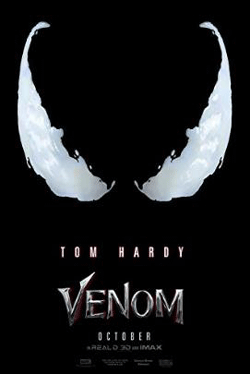 As Halloween approaches, more and more movies are hitting the theatres all over the country. Marvel's Venom happened to be released October 5th, and I was able to go check it out last weekend. As per Box Office Mojo, the movie has made over $387,405,457 worldwide and has a 7.1/10 on IMDb. Tom Hardy plays the main character, Eddie Brock, and also voices Venom himself. The lead actress was Michelle Williams and the antagonist, Carlton Drake was played by Riz Ahmed.
What did I think of the movie? I thought it was pretty good. I was disappointed by the absence of Spider-Man before I researched and found out that Venom would not be tied to the MCU or Spider-Man (Tom Holland) at all. The overall storyline was about a 5 or 6 / 10 and followed the union of Eddie and Venom as they set out to stop Carlton Drake from trying to destroy the earth.
Really, I enjoyed the relationship between Eddie and Venom much better than the main storyline. Their crazy adventure through life was funny and really lightened up the movie. It was great to see them bond over tater tots and fighting corrupt CEOs, especially during battle scenes. Overall, I don't think it was my favorite Marvel movie, but it was definitely enjoyable to watch and I do recommend it to Marvel fans. Venom was also accompanied by promotions and a trailer for Into The Spiderverse, which is coming out in December and also something I'm excited to see. Hopefully the franchise has more to offer in the future!