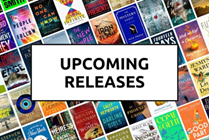 As January approaches, bookworms are starting to look forward to their 2024 anticipated releases. Many of the major publishing houses have already posted dates and covers for their releases. This news has readers on the edge of their seats. Many known authors, and debut authors alike, have exciting novels planned to release in 2024 with most having already been added to the wishlists of their fans. 
To begin, many readers anticipate Axie Oh's companion novel, ASAP, to her hit-romance XOXO which releases on February 6, 2024. This novel follows Sori and Nathaniel who were side characters in XOXO. Nathaniel is part of the largest K-pop group in the world and this comes with strict rules about dating. Sori is trapped by suffocating expectations from the people around her and can't stop thinking about her ex-boyfriend, Nathaniel. They will both have to decide what they can sacrifice and what they want to keep despite the costs. In this novel, readers will learn more about side characters from the first book and revisit a familiar story from a different perspective. 
Another release this coming year is The Bad Ones by Melissa Albert. It follows Nora after four people in her town go missing, one of which is her best friend. Nora sets out to find her friend and soon learns that the disappearances of the missing people are somehow connected to an old town legend. It is set to release on February 20, 2024. Will Nora save her friend and how is it all connected to local lore? Only people who read the book will find out!
Finally,  A Fragile Enchantment by Allison Saft, set to release on January 2, 2024, is a regency era inspired fantasy. It follows Nimah, a girl who can sew her emotions into fabric. She agrees to create wedding garments for the neighboring kingdom's royal family. However, when she arrives there, she learns of the agitation affecting the working class. Nimah grows closer to the groom she is designing clothes for but soon her privacy is violated when a journalist starts publishing information about her relationship. The journalist promises to only stop if Nimah can expose royal family secrets but doing so will mean she may have to abandon a future she now sees within reach. 
There are many books set to release over the coming year that fans are anxiously awaiting. Readers can reserve their books by pre-ordering or just purchase them after their release but either way many bookworms are waiting patiently to receive their new books. Throughout the new year, readers will have many new stories to explore no matter what their preferred genre is.