Food Donations – A Top Priority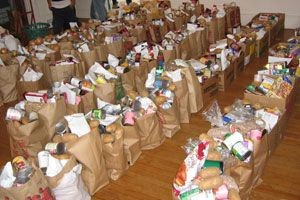 Researchers hasten to forecast the continuing food shortages that many countries are currently experiencing. Several causes have contributed to the global shortage primarily caused by the ongoing conflict between Russia and Ukraine. 
Ukraine was the top exporter of grain and fertilizer in the world. Therefore, the war has disrupted global agriculture, as soaring fertilizer prices decrease trade and also grain production. It is predicted that Cereal, milk, corn, and butter are expected to become scarce on shelves. 
Food insecurities are the primary contributors to the decline of communities worldwide. The flourishing characteristics of a district can abruptly transform when a food shortage occurs. Nonetheless, there are many ways to restore the prosperity of a community. 
Local food pantries have proven to be a successful way to support those in need, including donations of food, clothing, hygiene products, etc. North Arlington has a few locations for citizens to help out, or if needed, to receive aid. Notably, one of these locations can be found at the Queen of Peace Church. Their website offers a bar graph of items in demand, with grain products being the highest. 
Besides churches, schools are dedicated to pitching in by having student organizations conduct food drives. Donating provides students with an opportunity to help all those in need in their community. Individuals strive to ameliorate this dire situation. All North Arlington residents can make a change in the life of many by simply showing their generosity all year round.