Anticipated Book Releases of 2022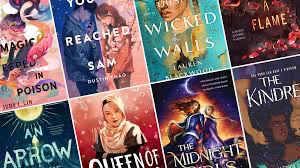 As 2021 comes to a close and we return to school and work, companies such as HarperCollins, Penguin Random House and Macmillan Publishing have released the list of novels coming out in 2022. Most bookworms have already bookmarked their highly anticipated releases in their favorite genre and the sequels that their favorite author has announced; however, some releases are more noticed than others. Some titles already have book stores planning for release day and others have publishers anticipating the onslaught of readers pre-ordering to reserve their copy. 
Firstly, one year after finishing her debut duology, the Sands of Arawiya series, best-selling author, Hafsah Faiza,l has announced that she is working on a new book, A Tempest of Tea, planning to be released in spring 2022. The novel follows a female tearoom owner, Arthie Casimir, as she leads a group of outcasts on a deadly heist in hopes of saving her tearoom, which illegally sells blood to local vampires. Faizal has promised a novel of action, bloodshed, and high risks, and fans of her previous series are patiently waiting for more information on this new project. 
It has been less than a year since Victoria Aveyard, author of the Red Queen series, has published the first book in the Realm Breaker series, and fans are already anxiously waiting for the second. The only knowledge fans have of it so far is that it is set to release in August of 2022; however, Aveyard has been posting about it regularly on her Instagram and TikTok accounts. The first book follows Even Corayne after she finds out she is the last of an ancient lineage. She is tasked with being the last hope for saving the world from complete destruction, but she is not alone in doing so. She is joined by a squire, an assassin, an immortal, a forger, a sorceress, and a bounty hunter. When the heroes fail will this ragtag group be able to save the world or will it crumple around them?
Laura Sebastian, best selling author of the Ash Princess trilogy has recently announced plans to release the first book in a new series this coming February. On February 1, 2022 Castle in their Bones by Laura Sebastian is planned to hit the shelves of bookstores. In this novel, we follow triplet princesses as they enact their mother's plan of world domination. From birth, each triplet is trained in seduction and battle, their mission is to sail across the sea to three different lands and marry three different princes. However, when they arrive and meet their betrothed they discover that their mother may not be as she seems and their task may not be as simple as they anticipated. 
As the new year approaches readers get their shelves ready for new releases and most are stalking their favorite author's social media. Whatever the case may be, the new year brings new releases and no bookwork can wait to get their hands on a new book at any time in the year.