"Under the Mask" – JC Pohl Assembly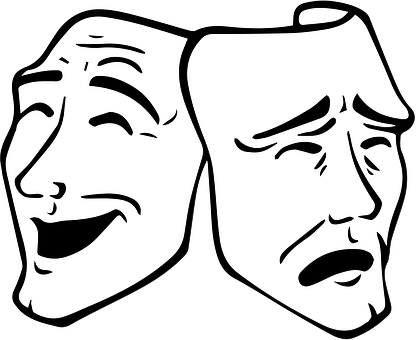 The phrase "you never realize you have something until it's gone" intoxicates students faring against COVID-19 due to its painful truth. In the Zoom assembly that took place on February 10, 2021, its honorable speaker intended to hit home for those afflicted by the Coronavirus. The speaker, JC Pohl, is an award-winning film producer who worked for Warner Bros. and Disney. His eccentric and reputable resume enabled him to gain the audience's attention as an empowering speaker under Teen Truth.
 JC Pohl began by recounting the Columbine School shootings, which at the time, was just as unprecedented as COVID-19. In other words, life is sometimes affected by unforeseen traumas that we cannot predict. According to Pohl, students feel that they are unheard and their feelings are hidden behind a mask. Everybody who has conflicted emotions will pretend they have no worries, concealing their despair. 
Often, built up frustrations escape the masks through depression and people "acting out." With this in mind, Pohl had everyone, including myself, respond to a question (by raising hands) such as: "Who has ever felt that they have mental issues, such as anxiety and high expectations?" — The fact that the masses of students responded affirmatively reassured reserved victims that they are not alone in their common struggle. Truly, Pohl hit the mark in engaging the audience and comforting those struggling. Several masks came off that day.
In essence, the message itself is ubiquitous regardless of the global circumstances, but COVID-19 and sacrifices made to hinder its spread made this message all the more appreciated. Of course, countless people worldwide (students, teachers, coaches) are deprived of familiarity and enduring bonds. Pohl insisted the importance of a "tribe" through using zebras as an example, which can run with their herds only an hour after birth.
An epitomizing story that asserts the importance of tribes is the story of Ryan, a limited athlete,  rising to the ranks of his basketball team. At first, he was denied a jersey but continued to support the team from the sidelines. In a championship game during his senior year,  the coach wagered that if Ryan's fellow Timberwolves had a fifteen-point-lead, Ryan could enter the game. Immediately, the team was motivated to score and earn a fifteen point lead allowing Ryan to play. Ryan became the star of the game by scoring the final three pointer!
Pohl ended his presentation by stating that you are not alone in your struggles and can always reconnect with others by simply reaching out. Hopefully,  people were inspired to renew lost relationships caused by the current public health restrictions. 
If you ever feel the need to talk about your burdens, never hesitate to reach out to guidance counselors, administrators, coaches, teachers, parents, peers or someone you trust.  Remember that there are always people who care!