Holiday Favorites – Hanukkah and Kwanzaa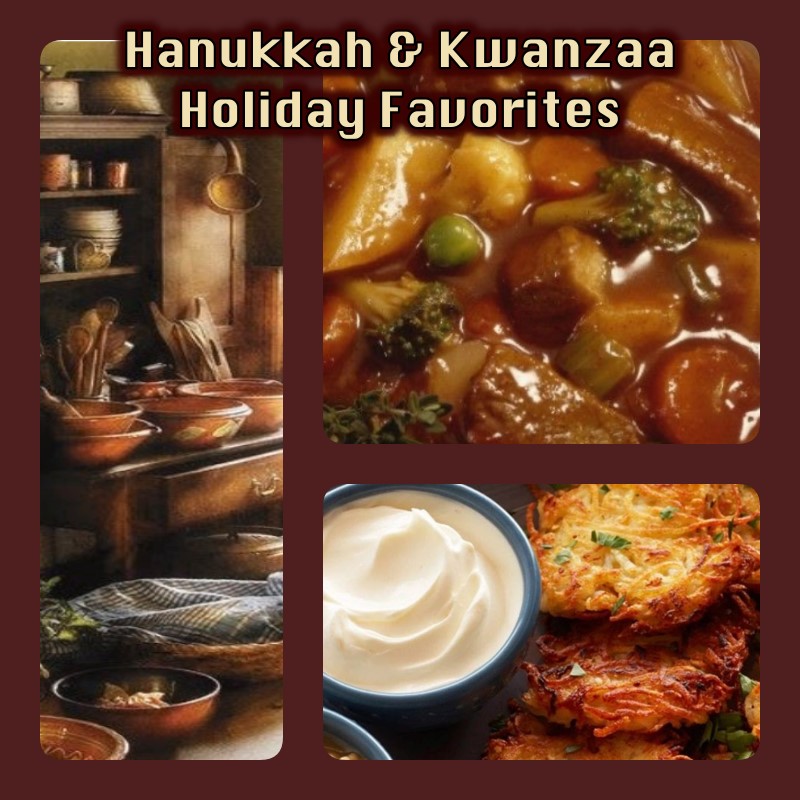 Everyone knows that the holiday season calls for the spending of quality time with family and friends, cheery spirits, and most importantly, good food! Let's take a look to see what different cultures are cooking up this holiday season!
First up on today's list is the joyous celebration of Hanukkah. This holiday is celebrated for eight days and foods fried in oil or cooked with cheese are commonly served as a tradition. One popular dish is Potato Latkes – pancakes! To make these you'll only need a couple of simple ingredients: salt, 2 large eggs, 2lbs of potatoes, and oil! To prepare the potatoes, you must peel, grate, and drain out the starch in a large bowl. Then you'll want to beat the eggs, adding just a pinch of salt, and pour them onto the potatoes and stir. Next, fill up a frying pan with oil and drop spoonfuls of the potato-egg mixture into the oil and cook until golden brown. And there you have it- Potato Latkes! This dish is often served hot and with a side of sour cream or applesauce.
Next up is the beautiful holiday of Kwanzaa. This holiday is celebrated to honor African heritage within African-American culture. Its most notable tradition is that of a grand feast. Sub-Saharan African foods are often put on the dinner table as well as foods that have developed through African American culture. One important dish however, is the stew. A popular stew served during Kwanzaa is Philadelphia Pepper Pot Stew. This is an intricate dish that calls for cassava, an assortment of peppers, bacon, beef, onions, scallions, garlic, collard greens, and plenty of seasoning and spices. Philadelphia Pepper Pot Stew originated from West Africa and has become a part of African American heritage, which is why it is served on Kwanzaa.
All in all, Hanukkah and Kwanzaa bring their own flavor and dishes to the holiday season with careful thought, meaning, and preparation. The good cheer and happiness brought from these dishes is what makes the holiday season so special. In other words, save me a plate! 
More detailed recipes:
Potato Latkes:  https://www.myjewishlearning.com/recipe/potato-latkes/
Peppercorn stew:  https://thephiladelphiacitizen.org/pepper-pot-soup-recipe/