Around the World – Christmas Traditions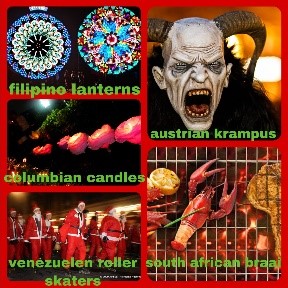 Christmas is a well known holiday—one that is celebrated almost everywhere. But with many different cultures, Christmas traditions are bound to vary. From colorful lanterns to roller skates, here are some of the most unique ways the Christmas season is celebrated across the world. 
In San Fernando, the "Christmas Capital of the Philippines," a Giant Lantern Festival (Ligligan Parul Sampernandu) takes place every year on the Saturday before Christmas Eve. During the festival, a competition is held between eleven villages (barangays) to build the most intricate lantern. Originally half a meter in diameter and made out of Japanese origami paper, these lanterns have expanded to six meters, and are created with an assortment of materials to give them their signature colorful patterns. 
On a similar note, to begin the Christmas season in Columbia, elaborate displays of candles and paper lanterns are placed in windows, balconies, and front yards. Like in San Fernando, there are competitions to create the most stunning arrangements. Called Little Candles' Day (Día de las Velitas), this tradition was created to honor the Virgin Mary and the Immaculate Conception. 
Christmas is celebrated with a scary twist in Austria. St. Nick has an evil partner in crime called Krampus. In the legend, while Santa is well known for spreading holiday cheer, Krampus, a demon-like creature, scares children and punishes bad kids by stuffing them in his knapsack. During the first week of December, young men dress up as the Krampus to frighten children by clanging chains and bells. 
Since South Africa is located in the Southern Hemisphere, Christmas takes a hot turn—it's celebrated during the summer! Instead of having fun in the snow, families celebrate this holiday by camping in massive tents or organizing outdoor events like making traditional barbecue (braai) or other traditional South African dishes. 
On Christmas Eve in Caracas, Venezuela, citizens attend church—but on roller skates. While the origin of this tradition is unknown, roller skating to church has become so popular that roads are closed throughout the city so people can safely skate to church. Afterwards, they return home to a unique dinner: tamales.
No matter how it's celebrated, Christmas is a joyous time for everyone, even if you don't celebrate it. It's a time to gather around the dinner table, catch up with family and friends, and share the gift of giving. Merry Christmas from the Viking Saga!