Bergen County Teen Summit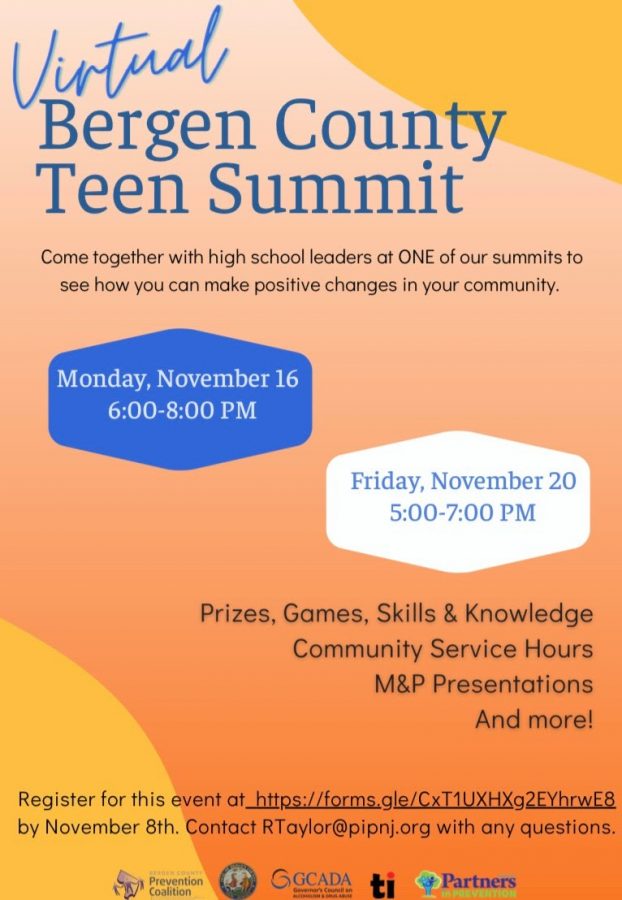 On November 20, Mrs. Gagliano and Ms. Bond introduced North Arlington High School to the Bergen County Teen Summit. The event (taking place over a Zoom call) spanned all schools from Bergen County and was organized by a few groups: The Lindsey Meyer Teen Institute (LMTI), Partners in Prevention, Governor's Council on Alcoholism & Drug Abuse, and the Bergen County Prevention Coalition.
The summit kicked off with an encouraging message from M&P Presentations, a motivational duo made up of Matt Matkovich and Phil Januszewski. The two talked about their own lives, and stressed three main principles: Embrace the Awkward, Self Confidence, and  Focus on the Positives. In the presentation, they delved into their personal experiences, giving embarrassing stories of their own in order to demonstrate that everyone has awkward moments in their lives, and the best thing to do is embrace them and continue on. Afterward, they had the participants in the call do a variety of activities, including mimicking an emoji that was voted on by the audience into their facecam, reading a poem about baby toes, and sharing an achievement that they were proud of.
Following M&P's part of the Teen Summit, Rachel Taylor and Corey Donetz talked to the audience about mental health and wellness. They focused on self-care and how to keep a clean mental state, talking about the signs of worsening mental health, how to help others, and some resources available to those in need. For example, they talked about how mental health can have consequences emotionally (i.e. difficulty concentrating/mood swings), physically (racing heart/nausea), and behaviorally (secludedness/eating habit changes). Additionally, Rachel and Corey made an analogy in which a cup represented one's well-being. When a person's cup is full, they are able to pour some of their cup into others and be able to socialize. If a person's cup is drained, however, they need to spend some time filling up their own cup through activities that make them feel good — such as sleeping, yoga, exercise, reading, etc.
After the meeting concluded, we asked other participants from NAHS their thoughts about the event. Senior Jimmy Pizzuta commented that, "It was very helpful and provided lots of valuable information about mental health and how to take care of ourselves. I liked that they brought in people to talk about awkward social situations and how to embrace them. In addition, I found the funny stories they told us to be very relatable", showing his support for the presentation. Another student, junior Natalie Herrmann, reflected, "I really enjoyed virtually attending the Teen Summit Event. I am so glad I got the chance to participate in many of the events and reach out of my comfort zone. I also learned a lot about mental health and many aspects that I can apply to my daily life, while simultaneously helping others!", expressing her enthusiasm for the program as well. Looking back, we appreciated the event for providing a chance to learn more about mental wellness and stepping out of our comfort zones, in addition to the fun activities that took place.