Spooky Treats from the Culinary Club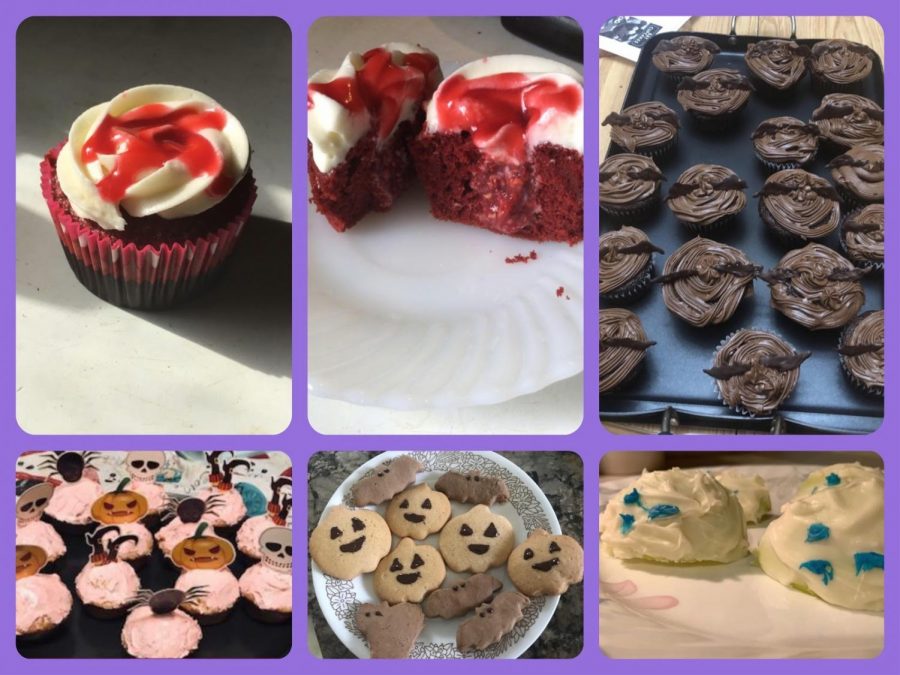 While social distancing has prevented many clubs from meeting in person, it has not kept the Culinary Club from having fun in the kitchen! To make Halloween a little more exciting this year, the Culinary Club decided to bake their own Halloween-themed treats from the comforts of their own home. Members all chose a treat to make and created a small slideshow that showcased their creations and detailed the steps of the recipe. 
On the Friday before Halloween, the Culinary Club met up to present their creative masterpieces. As the President of the club, I went first. I introduced my work with a picture: bloody cupcakes. A base of red velvet with a cream cheese frosting rosette piped on top and raspberry coulis drizzled over to mimic "blood." Inside the cupcake also laid a surprise filling of raspberry remains left over from making the coulis, giving off the idea that "guts" were spilling out. The tang of the raspberries paired perfectly with the rich flavor of the cupcake and the sweetness of the frosting. 
The other members also showcased their amazing creations. Reina Tanaka baked cookies shaped like pumpkins, bats, and cats. She even added a little bit of chocolate for a cute touch. Cassie Servitis chose a healthier approach, making adorable ghost apples. She dipped the sliced apples into white chocolate and piped eyes and mouths onto them. Maya Silva baked bat-themed cupcakes, using chocolate to create the little bat wings for all of the cupcakes. Jynae Willams baked what she calls "Spooktacular Strawberry Cupcakes", which were delicious cupcakes with strawberry icing and spooky accessories sticking out of them. 
In the end, with the social situation this year, I am glad that the Culinary Club was able to still do something to celebrate the spirit of Halloween. Reina, a member, described her experience as a "fun activity", stating that her cookies "turned out good and tasty." Cassie, "really enjoyed doing a themed treat" and thinks that "we should definitely do more." Considering how the pandemic has impacted Halloween, the spookily-themed treats were definitely a fun way to still create sweets. Either way, I look forward to making more delicious food with the Culinary Club.