NAHS Team at Bergen County's 2020 Consumer Bowl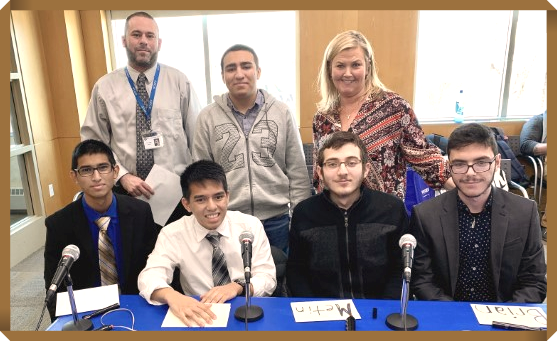 The NJ Consumer Bowl is a yearly event in which students from all across the state come to compete against one another, beginning at a county level. In the event, teams of four and one alternate competing against other schools to answer as many questions about NJ consumer laws as possible. Examples include who to call in the case of flood damage, types of scams and how to avoid them, what to know about the court system, and many other information that is useful to the average person going about their day-to-day life.
This year's NA team consisted of Team Leader Umair Khan, Metin San, Brian Kataro, Gerard Nifras, and alternate, Emilio Arroyo. All of the team members experienced the event for the first time. The team's progress was overseen and guided by their advisors from the technology and business department, Mrs. Tomko and Mr. Sossin. Following weeks of preparation and studying, the team set out together for the competition, held at the Bergen County Municipal Building in Hackensack.
The competition was split into two sections, each section containing four teams competing against each other. NA was put against Fort Lee, Hackensack, and Lyndhurst in a multi-round set of questions. Following the inquiries, which had students use both their individual knowledge and skills as a team, the points were set in stone. While not necessarily the victors, as Fort Lee won the round, North Arlington team members put up a valiant effort for their first competition, even securing second place in the opening round! Altogether, the team and advisors enjoyed the experience, and look forward to competing in next year's event.