Day of the Dead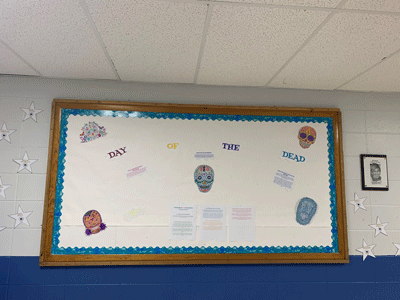 Hang on for a minute...we're trying to find some more stories you might like.
The Day of the Dead also known as Dia de los Muertos is celebrated from October 31 to November 1, but North Arlington High School decided to celebrate it a little earlier. It is a Mexican holiday honored in Mexico as well as by people of Mexican heritage living elsewhere. On this occasion, family and friends gather together to pray and remember the ones that have passed; it is a time where life unites with the dead. Families create offerings to honor their loved ones that have passed. The altars of the deceased are decorated with bright yellow marigold flowers.The altars are also covered with photos of the deceased and their favorite food and beverages.
North Arlington High School took a small part in Dia de los Muertos where members of the Multicultural Club decorated a bulletin board with facts about this truly amazing holiday and skull drawings. Members also took pumpkins and decorated them using Day of the Dead themes which showed their true spirit about the holiday's significance.
"Day of the Dead is a holiday to remember loved ones by sharing a meal with them as one would when they were alive."