Meadowlands Birding Festival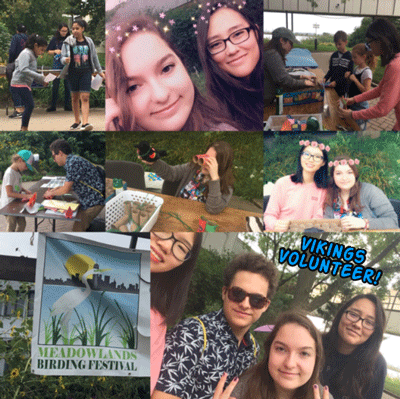 Every year, the Bergen County Audubon Society (local chapter of the National Audubon Society) hosts a birding festival at Dekorte Park in the Meadowlands. During the festival, attendees can participate in nature walks led by Audubon volunteers, watch demonstrations of live raptors, participate in information sessions, and much more. I was inspired to volunteer at the festival last year by my mom, who is a member of Bergen Audubon. I had an amazing time working with children and teaching them about the wildlife that exists right in their backyard, as well as making fun crafts with them. I also got the opportunity to work with many wonderful, kind, and educated people who truly care about our environment and the area around us.
This year, I returned to volunteer at the festival with my brother and two friends, wanting to share the experience with them. We worked at the children's section this year making bird feeders out of ice cream cones and peanut butter, cardboard tube binoculars, origami birds, and taught visitors about bird migration. Soon many children could be seen carrying colorful paper birds and peering through their toy binoculars at the butterflies and birds that live in Dekorte Park. It is truly a rewarding experience to work with children, especially when it comes to educating them about conservation. The festival is simply amazing for the fact that it gives everyone, no matter their age, an opportunity to educate themselves and have a bit of fun in nature. The beauty of it all is that most groups focus on local species and wildlife, so attendees to the festival are learning about animals and plants they could find in their own neighborhood.
Ms. Marie Longo, long-time member of BCAS, echoed this idea in a brief interview, "I think it's important that we educate our young people today so that they can learn to care about nature, get outdoors, and gain a respect for nature, wildlife and the environment." As a dedicated member to the cause, Ms. Longo told me her favorite part of the festival is always the aspect of teaching people and seeing children get involved in the activities.
The work of Bergen Audubon doesn't stop at the Birding Festival. BCAS President and local conservation champion, Mr. Don Torino, tells me there are opportunities to help the group throughout the year, "There's lots of ways to help, at special events like this one, we always need young people to come out and help in our butterfly gardens, as well as our bird walks. There's always something to do."