Spring Concert 2019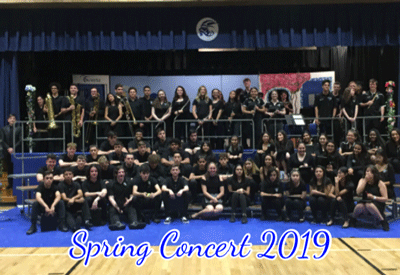 Recently on a wonderful spring night family and friends were invited to attend the annual Spring Concert here at the high school. The show consisted of performances by the very talented NAHS Band and Chorus, as well as a few brave soloists. The students were conducted by our new music director, Mx. Lemley and certainly put on a beautiful show. The band and chorus started the show together with the inspiring song "High Hopes" by Panic! At The Disco followed by a choral performance of John Lennon's "Imagine".
Both performances were motivating and brought a lot of energy to the room with people singing and tapping along to the beat. Afterwards, the band played three pieces; "Exhilaration", "Timberline Overture", and "A Tribute to Gershwin". All of the pieces were elevated in complexity and clearly demonstrated the hard work and practice that the chorus, band, and director put into the show this year.
Afterword, the soloists and duettists took the stage! Rafaella Damaio sang "Can't Help Falling in Love" by Elvis Presley, Amanda Anzaldo and Ashleigh Chiang (violin and piano) performed "It Will Rain" by Bruno Mars, and Leyanna Cheng and Camila Figueroa (vocal duet) performed "All of Me" by John Legend.
All of the soloists, as expressed by Mx. Lemley, had to undergo an audition process and were chosen based on superior musical talent. This definitely rang true when seeing the exceptional talent displayed by the students!
Finally, the band and chorus concluded the show with one last performance each. The band played a beautiful piece called "Eternal Peaks" that enchanted the audience. There were several "avalanchers" (drummers) and other band members positioned around the gym to create a unique sound, which was certainly an interesting experience. However, their role didn't end there. The chorus performed "A Tribute to Queen" which began with the band clapping and stomping along with the singers to "We Will Rock You". By the end of the show, the chorus was singing proudly and the band students danced along to the music in the back of the room. It was very apparent the bond these students formed, and concerts like these can only further prove the value of music education.
Congratulations on a wonderful performance, NAHS Band and Chorus! Thank you to Mx. Lemley, our administration, and everyone who helped put on a wonderful show.