Northern New Jersey Walk for Autism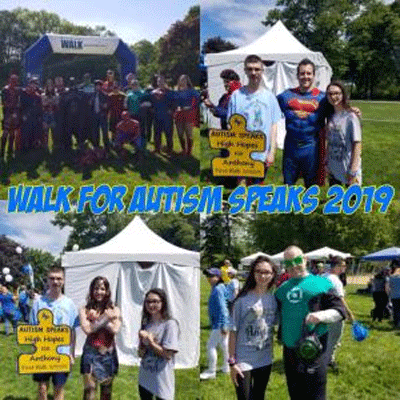 Since 2005, my family and I have always participated in walks for autism. My twin brother, Anthony, was diagnosed with autism in 2004. Ever since then, we have tried our best to help him manage his symptoms. Autism has been a known mental disorder since 1943. Although a cure has not yet been discovered, many people have ameliorated their symptoms with therapy.
According to Autism Speaks, "Autism or autism spectrum disorder (ASD), refers to a broad range of conditions characterized by challenges with social skills, repetitive behaviors, speech, and nonverbal communication."  My brother, Anthony says, "The hardest part of living with autism is that it is difficult for me to handle large crowds and loud noises. I get anxious and stressed very easily." Not every person with autism faces the same struggles as Anthony, as he was very fortunate to be diagnosed and treated very early in his life. There is a spectrum and variety of symptoms that people with autism have to face, and this is a challenge to doctors who are working tirelessly to find a cure.
Every year, there is a walk for fundraising to eventually find a cure for autism. Many sponsors reach out and provide activities for everyone to enjoy. There was a corn-hole tournament, soccer game, and other games for everyone to play. Stop and Shop, Bob's Furniture, Home Depot, iHeartRadio, and the New York Red Bulls were just a few of the many sponsors that appeared at the event. Some sponsors gave out toys to help people with autism, such as stress balls.
Many people addressed the crowd to talk about coping with autism in their lives. Instead of clapping and cheering, blue pom-poms were given out and people were encouraged to shake the pom-poms to create less noise for those who are sensitive to loud sounds.
This year was very enjoyable. One of my favorite parts of the day was getting to see Marvel characters, Storm Troopers and Disney Princesses. Many kids were excited to meet their favorite characters. Anthony's favorite characters were Dead Pool, because he had a therapy dog with him and the Storm Troopers because Star Wars has always been something that Anthony enjoys watching.