Paris Treasure Destroyed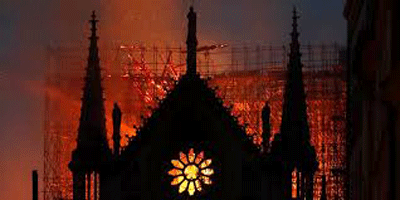 Hang on for a minute...we're trying to find some more stories you might like.
The Notre Dame Cathedral has had its share of both glorious and tragic historical moments. It is a huge part of French history and, to this day, remains an influential structure.
On April 15, 2019, a fire started suddenly in the cathedral, burning for many hours. It took the firefighters until the next morning to extinguish all the flames, but sadly, the fire did not leave its victim unscathed. The 300-foot-tall spire at the top of the building fell off, along with the roof of the cathedral.
Time had seemed to stop in Paris, as the entire city watched one of the most important structures in their country's history go up in flames. Not only was it a huge architectural feat, it was also a major religious and cultural symbol. The walls were filled with pain and tears of centuries before – that's not something that can be rebuilt.
French President Emmanuel Macron said that the history, "…is ours. And it burns. It burns and I know the sadness so many of our fellow French feel." Macron sought to bring the people together to help restore this valuable structure. He vowed to not only rebuild the structure, but to do it in a mere five years. In fact, with the generous donation of hundreds of millions of dollars from France's richest citizens, this might just be possible.
https://www.cnn.com/2019/04/15/world/notre-dame-cathedral-fire/index.html
https://www.nytimes.com/2019/04/16/world/europe/notre-dame-fire-investigation.html