NAHS Welcomes Mrs. Buckley!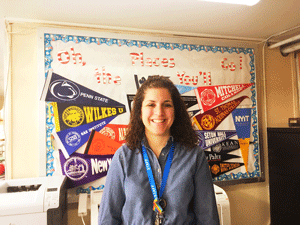 Hang on for a minute...we're trying to find some more stories you might like.
Recently, North Arlington High School welcomed a new Director of Guidance- Mrs. Buckley! She attended high school in Rockland County, New York, where she was president of the Interact Club. After graduating, Mrs. Buckley went on to study at Wagner College, where she earned a Bachelor of Arts in Psychology, as well as a certification in childhood education and special education. She then attended Long Island University where she received a Master's degree in school counseling. Before coming to North Arlington, she was a member of the Rutherford High School guidance department.
What does she like about North Arlington High School so far? Mrs. Buckley answered that she has a very positive outlook on NAHS, "I love the welcoming students, staff, and community–and I love the Viking Values. I'm enjoying the school spirit and everyone being so supportive." She is eagerly anticipating some school events as she stated, "I'm looking forward to prom and graduation and all the events since it'll be my first time. I'm also looking forward to the kickoff for Stigma-free initiative."
As for the Stigma-free initiative, Mrs. Buckley described some of the activities to take place, "There's a task force of teachers, administrators, and a student representative, we did a sale for clothing and accessories, we're having a Health, Wellness, and Safety Fair in May, and we're going to have a Viking Voucher where students get it for positive behavior, that goes into a raffle where there's prizes." She is very excited about this new plan for NAHS, as are many who are proud to be part of the growing movement to stop the stigma against mental health issues.
When Mrs. Buckley was in high school, she was president of her school's Interact Club and was very involved in school spirit activities. What is her advice for student leaders in North Arlington High School? "Don't take on too much at once, it's okay to delegate, it's great to be involved in everything. Show pride, but know when it's okay to say no, don't burn yourself out; and ask for help if needed." This is wonderful advice, especially for the many students in NAHS who have leadership positions in more than one club. Management can be difficult sometimes, but as Mrs. Buckley pointed out, it's healthy to welcome a challenge as long as you aren't overdoing things.
As for students in general, Mrs. Buckley described what the plan should be for incoming freshmen, "You want to make the most of your high school career and listen to the suggestions from upperclassmen and from your teachers. If your goal after school is college, you need to start from day one. You need to make the most of it, don't just go to class and go home." She also detailed advice for seniors who will be leaving the high school, "Take advantage of your opportunities – college and the real world. Reach for the stars…And most importantly, don't forget where you came from."
Outside of work, you will find Mrs. Buckley spending time with her family, "I am a mommy of two, so my hobbies right now include whatever my children want to do. We go to the zoo, the park, whatever activity they like to do. Whenever I have time for myself, I like to read a nice book, go shopping, and I love the beach." Her favorite movie is a tie between The Wizard of Oz and Dirty Dancing, and she says any kind of pasta is her favorite food.
We are very excited to have such a vibrant and proactive new Director of Guidance! Welcome to the district of North Arlington, Mrs. Buckley!