Hayden's Heart 5K Run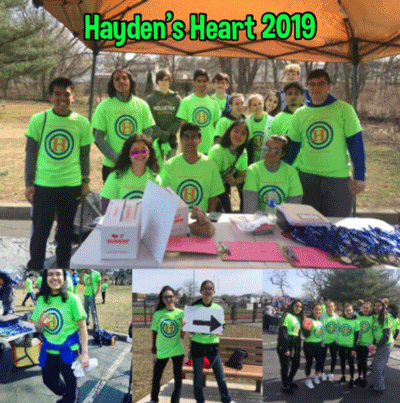 On Saturday, March 30th, the seventh annual Hayden's Heart 5K run was held in Riverside County Park South. Hayden's Heart is a nonprofit organization that raises awareness for Congenital Heart Disease, otherwise known as CHD. CHD causes the heart or large blood vessels near the heart to be deformed. Hayden was born on March 12th, 2012, with Hypoplastic Left Heart Syndrome. He spent the first three months of his life in the hospital because he needed to have open heart surgery. Unfortunately, at five months old, Hayden passed away. Thus, his parents created Hayden's Heart in his honor. The 5K run is held as a fundraiser to help families like Hayden's since many struggle to cover the costs of operations on young children.
There were many volunteers that came to help out or run the course. One runner, Brian Kataro, described his surreal experience, stating, "Even through the grit and sweat, it was amazing to see the community come together because of a shared cause, all while making it enjoyable for adults and kids alike." Of course, this wasn't an easy run as participant Metin San detailed, "I started off strong and felt good. But I started to slow down due to energy loss. I soon began to feel pain in my shins. From then on, I had to deal with the pain. The most painful part would have to be going up and down the hill. Throughout the race, people I knew tried to motivate me to push to until the end. Even so, I think it was a good experience to run Hayden's Heart." Lastly, fellow sprinter Gerard Nifras wrapped it up by saying, "I have no words except that this was the longest distance I have ever run."
For this event, we volunteered as course guides. We helped guide and encourage people that were taking on this race. The event began with a children's race that was a prelude to the much-anticipated adult race. All children and adults alike enjoyed the race, fueled by determination. After the race, many fun activities followed. Sponsors such as BCB and Home Depot provided interactive activities for the kids. Blimpie and Nonna Lisa provided delicious food while the NAHS's Interact Club provided volunteers for the event. Overall, it felt great to be able to participate and volunteer in this event. We loved cheering people on while they ran this intense course. Not only that, the food provided was also superb. Special thanks to Mrs. Gagliano and Ady Dorsett, Hayden's mother, for organizing this event! We look forward to participating in more events like this in the future.