Samsung Unveils the Samsung Galaxy Fold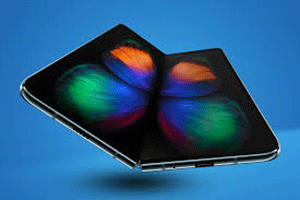 Hang on for a minute...we're trying to find some more stories you might like.
Last month Samsung unveiled the phone that it has been teasing the media over ever since November 2018: The Samsung Galaxy Fold. The revolutionary device is one of many new phone products that strive to increase the amount of surface-area of phones by doing the very technique that is in the name: Samsung has created a foldable phone/tablet hybrid that is expected to lead the way, with many other competitors, into a new technological age.
The Galaxy Fold, as seen through its reveal trailer and the information given through its website, has quite the number of surprises in store. The phone, when in its "closed" state, shows off a 4.6" HD+ Super AMOLED Display on its cover with a 10 MP front-facing camera. The screen, however, does not take up the entirety of the phone's height, leaving some empty space on the bottom of the screen, as well as the top.
The real showstopper, however, comes when the user unfolds one side of the phone, which then flattens into a tablet to revel a 7.3 inch QXGA+ AMOLED display. The inside holds two cameras, one being another 10 MP Selfie Camera with its partner being an 8MP RGB Depth Camera.
The tablet itself also comes in handy with a 3-way split-screen feature that allows for a level of multitasking that has never been seen before. On the backside, users can find another three cameras packed into the device, a 12 MP Telefoto Camera, a 12 MP Wide-angle Camera, and a 16MP Ultra Wide Camera, which will certainly allow for stellar photographs to be taken with a whole new level of depth.
The 2-in-1 product, however, does come at a price. Boasting 512 gigabytes of storage and 12 gigabytes of ram, the Samsung Galaxy Fold will be priced at $1980 on its launch date, April 26, a price tag that matches many computers and laptops.