Power Plant Causes Sky to Glow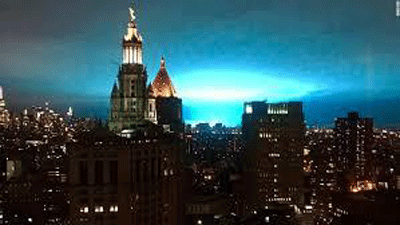 Hang on for a minute...we're trying to find some more stories you might like.
Late on December 27, 2018, a fluorescent blue-green night erupted above the skyline in Queens, remaining visible from over a half of a mile away from the source of the light. First reports, beginning at 9:12 p.m. in the surrounding area, were filled with fear and panic because witnesses were unsure about the safety of people living near Queens and some even suspected that the light originated from some type of an alien invasion.
Quickly, however, these theories were debunked by the New York Police Department (NYPD), tweeting, "No injuries, no fire, no evidence of extraterrestrial activity," which allowed the public to calm down and any theories concerning creatures not of this Earth to die out. It turns out that the explosion and rumbling in the ground had been caused by the explosion of a transformer (which acts as a connector from one electrical current to another) that had an electrical surge and failed to shut-down before overheating and causing the explosion.
The disruption of the explosion did not end there, however, as multiple locations lost power not too soon after. Many places, most notably La Guardia Airport, had to cancel flights and forced ground stops, creating problems within the airport. Many other locations, such as complexes in Jackson Heights and even Rikers Island Prison lost power due to the explosion, causing mass confusion and worry about how long these black-outs would last.
Altogether, the explosion of a transformer in Queens, NY caused quite a chaos, causing power outages, as well as numerous reports of extraterrestrials arriving on Earth (based on the glowing cyan lights in the sky) and forcing operations, such as La Guardia Airport, to terminate some of their flights due to the explosion followed by the power outage.
Overall, the explosion did cause quite the spectacle, creating a cool, eerie teal light to wash over the lights of New York when it was least expected.