The Passing of a President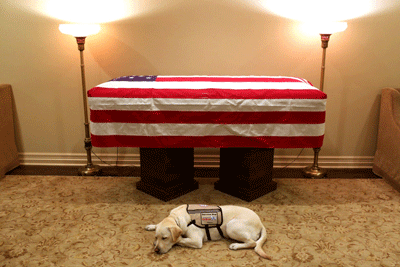 Hang on for a minute...we're trying to find some more stories you might like.
President Bush served in the army from 1942-1945, enlisting when he was only 18 years old. During his time of service he fought in WWII and was met with overwhelming circumstances, one of them being when his plane was hit by enemy fire. Though the plane was on fire, he completed his mission near Iwo Jima. According to Military.com, he was rescued by a Navy submarine, the USS Finback. Honored as a hero, Bush was awarded the Distinguished Flying Cross and three Air Medals. A year later, he was discharged with the rank of lieutenant.
George H. W. Bush was a Republican who started his political career when he was elected to the U.S. House of Representatives in 1966. He served as vice President to Ronald Reagan for two terms, going on to run and win the 1988 Presidential election as a Republican, becoming the 41st President of the United States from 1989-1993. He then lost the second term to Bill Clinton, but wrote President Clinton a letter stating, "You will be our President when you read this note. I wish you well. I wish your family well. Your success now is our country's success. I am rooting hard for you."
George H. W. Bush's funeral was one of respect, dignity, and the highest of honors. All of the living former presidents were there to pay their respects, including President Obama, President Carter, President Clinton, President Trump, and his oldest son, President George W. Bush. During his father's funeral, George W. Bush held back tears as he remembered his father. He portrayed his father as an imperfect, but beloved man who taught him wisdom as a president and a father.