NAHS Has a New Athletic Director!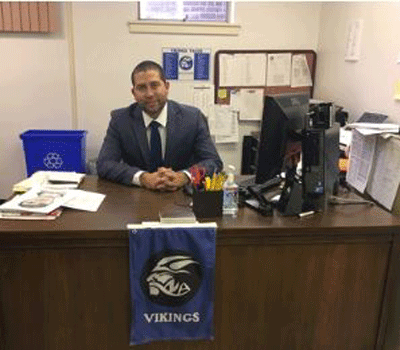 Hang on for a minute...we're trying to find some more stories you might like.
Very recently, NAHS has welcomed a new Viking into the family- Mr. Aronowitz, our new Athletic Director. Mr. Aronowitz received his undergraduate degree from East Stroudsburg University and his graduate degree from NJCU. Athletics have always been a huge part of our school, so the job of directing the whole department is a big undertaking. In an interview, I was able to ask Mr. Aronowitz about the future of sports for the school, "I want to see participation numbers and I want to be able to give recognition to teams or individuals who accomplish things. I want to be the person who is there promoting them and getting the good news out, I want to make sure we have a voice." Certainly a noble goal! Mr. Aronowitz says his favorite part about the job and working in the school so far is the atmosphere, "I've really felt very welcome here. I think the staff is tremendous, I'm working with a good group of people."
Outside of work, Mr. Aronowitz has many hobbies, "I enjoy playing golf and I love the beach. The Jersey shore has been a big part of my life." He recalled good times spent on the boardwalk with his family and hopes to visit the beach again this summer with his son and his newborn daughter (Congratulations!) He also has a number of favorite teams, "I grew up a Mets fan, I root locally for the Jets too. Currently, my favorite basketball team to watch is Duke."
When it comes to stories, it seems that Mr. Aronowitz has seen a lot happen during games, especially after coaching basketball for thirteen years and baseball for nine years. He remarked that the most surprising thing he saw at a game was at a girls' basketball game, "It happened last year. We had a potential thousand point scorer; we had everything ready to go. I think she needed 24 points and the fans got a bit excited as she got closer. When she scored her thousandth point her mom and her sister ran down the bleachers and tackled her while the game was still going. It was in good spirits, of course." Definitely a spectacle to imagine!
Finally, the million dollar question, "If you could write a message to all Viking Athletes that would be displayed on the Goodyear blimp, what would it be?" After a bit of deep thinking, Mr. Aronowitz gave me his answer, "NA Vikings, stay committed. Stay focused. Never give up." Short, sweet, and to the point, Mr. Aronowitz seems to have his sights set on a future of success and inclusiveness for NA Athletics. Welcome to North Arlington, Mr. Aronowitz!