Teacher Spotlight: Mrs. Ingannamorte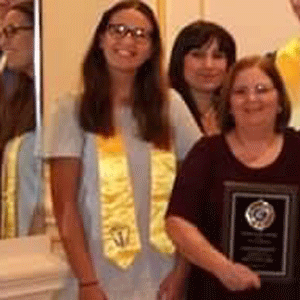 Hang on for a minute...we're trying to find some more stories you might like.
Our school is filled with inspiring teachers and administrators that never cease to encourage and foster students' growth, one such teacher is the charismatic English and Social Studies teacher Mrs. Ingannamorte. She is the perfect teacher to kick off our teacher spotlight articles! Recently awarded the National Honor Society Honorary Inductee, Mrs. Ingannamorte grew up nearby in Bloomfield. She has always had a passion for reading and history, and though she entered college with an idea in pursuing math and science, she returned to teaching after graduating. She worked at a preschool for 15 years, and she credits the insights she gained by raising her two sons for helping her in her work. She always had the desire to work with older children and this is precisely what drew her to our school.
In her 15 years at NAHS, she has inspired countless students and has truly impacted our community by her participation in various extracurriculars. She is the other half to the journalism dream team here at the Viking Saga, she and Mrs. Albuquerque have truly expanded the Saga and have ambitious plans for the future of our publication. She is also a Freshmen Peer Mentor which she joined to connect with students that she normally wouldn't teach in class. As a member of the Book Club she advises, I can attest to her vast literary knowledge and capability to talk about books for hours—a trait I am much grateful for and regularly take advantage of.
What I believe is her greatest characteristic as a teacher—though—is her commitment to the students that goes beyond the number on a report card. She focuses on what students are going to take with them once they graduate and she brims with wise words that apply to not only graduating seniors but nervous freshmen. Beyond making an impact on the Viking Saga or school community, she has certainly made an impact on many of the students she has taught or has simply talked with, and thus she is our much-deserved teacher spotlight.