Visit to Pax Amicus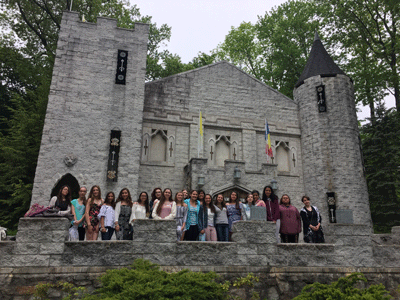 On May 22, a group of students boarded a school bus destined for Pax Amicus Theatre in Budd Lake, New Jersey to watch a performance of Romeo and Juliet. After reading and analyzing the play in class, students went to see it live. Everyone was excited, and took a lot of photos together on the rustic grounds of the castle theatre. Inside, the medieval decor of the castle added to the aesthetic of the play.
The show was exhilarating to say the least; and the sets were gorgeous. The thespians presented vibrant personalities that appealed to the audience members, and it was a lovely performance. After the show, the actors answered questions from the audience and were very open about their careers in acting. Frankie Montero, who played Tybalt was everyone's favorite.
Overall, it was a great idea for a field trip and the class enjoyed it very much. Thank you to Mrs. Albuquerque for organizing the trip and letting us have such an interesting and rare experience! Mrs. Termaat and Ms. Petrocelli did an amazing job chaperoning this memorable experience.
When asked about her favorite part of the show, Nicole Dean, remarked, "Definitely at the end during the questions; when we got to know them (the actors) they were very outgoing and interesting- We got to hear their backstory."