Consumer Bowl 2017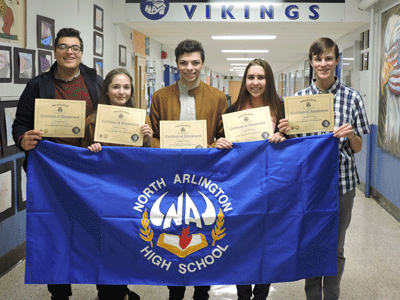 Hang on for a minute...we're trying to find some more stories you might like.
On February 28th, 5 members from the junior and senior class competed in the New Jersey Consumer Bowl. According to the official website, "The New Jersey High School Consumer Bowl is an educational competition for high school students across the state. It was established in 1997 to educate young adults on a variety of consumer issues." The first round consisted of three intervals: individual questions, team questions, and a lightening round. After months of studying various consumer rules and regulations, The North Arlington High School students put up a vigilant fight against last year's champions, Leonia High School. After coming in 2nd place in the initial round against Lodi and Leonia, the North Arlington participants were proud of their work.
The final champions of the Bergen County Consumer Bowl were students from Ridgefield Park High School. They will move on to the region competition in the following month. Overall, we would like to thank the advisor, Mrs. Turner-Turano for encouraging us all to participate in this educational competition. Also, we'd like to extend a special thank you to Mrs. Tomko, who helped chaperone and advise the team. With a little more rigor for next year, the North Arlington team can certainly advance to the second round!