Netflix's Cobra Kai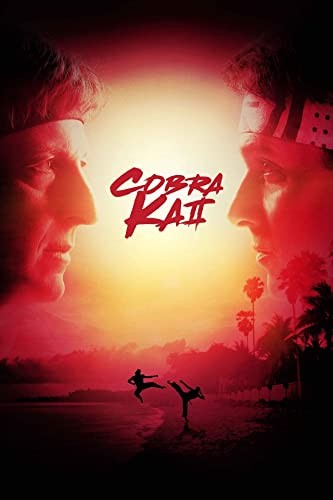 Strike First. Strike Hard. No Mercy. These words have haunted fans of the 1980s Karate Kid saga because the infamous Cobra Kai dojo lived by these ruthless principles. With the Netflix-exclusive show, Cobra Kai, modern audiences can enter the lore while deciphering the roots of the ruthless dojo. The series kicked off where the movies ended as Johnny Lawrence, the bully with "blonde locks", haunted the protagonist, Daniel Larusso. 
Thirty years after his humiliating defeat to Larusso in the All-Valley Karate Tournament, Johnny was initially depicted as a drunk loser who yearns for the days when he used to be on top. Meanwhile, Daniel and his family live the best life as they market Daniel's reputation as the "All-Valley Champ" to attract customers to his car dealership. When Johnny inevitably meets Daniel in his car dealership, he is reminded of his bittersweet past, inspiring him to resurrect Cobra Kai. Recounting his past would help him regain a purpose and help a new protagonist, Miguel Diaz, fight back against a modern bully. In short, Cobra Kai never died.
At first glance, a viewer would think that Cobra Kai would be another reboot that insults the efforts of its predecessor, like the new Star Wars movies. However, Cobra Kai is a unique, modern take of the themes mentioned in the movies and more. In particular, Daniel continues to seek Miyagi's advice even after his passing. As a fan of the original saga, I teared up when I saw footage from the old movies featuring Pat Morita, the deceased actor who played the role of the legendary Mr. Miyagi. 
This was gut-wrenching to viewers past and present because Miyagi's warm-heartedness extends to a new generation of fans.  In fact, it teased how Cobra Kai first developed the principle "No Mercy." Although Cobra Kai takes place 30 years after Johnny's demise, it often explores the merciless roots of Cobra Kai's most notorious mentor, Kreese. In short, such nudges to the original legacy reel in new fans unfamiliar with them and enlightens new ones. 
Meanwhile, new characters were necessary for modern audiences to immerse themselves in Hill Valley. They include Miguel, the current underdog who takes Daniel's place as the main protagonist and Samantha, a Larusso. Of course, with Miguel being a Cobra Kai, Samantha has developed trust issues with her father's recounts. Similarly, Johnny is still resentful because of the loss to Larusso as a result of Daniel's "illegal" kick. 
The genius of this show is that there is no universal "antagonist." In other words, all characters, new and old, are exposed enough for the audience to sympathize with and understand why they act as such. Viewers will encounter Eli, a new character, described as a chaotic beast with spiky hair. After getting targeted by relentless bullies, Eli changed his physical appearances in order to intimidate his opponents.
Unfortunately, that is all I can say about the amazing show without spoiling too much. What I can say is that the Netflix show, rated TV-14, is worthy of watching and can be enjoyed with older family members. Cobra Kai  recently finished its third season and is integral to understanding the "hype" of the original saga because it relates the original characters to the current ones. In short, if you are a fan of the 80s decade, non-stop action, dynamic characters, and The Karate Kid, this show is the perfect binge-watch sensation for those encountering The Karate Kid saga for the first time.