Fine Line by Harry Styles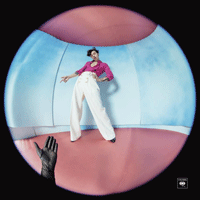 Fine Line is the title of Harry Styles' second album. In this album, he sings about a breakup that he went through and his journey to self-discovery and healing. This project has a total of 12 songs. Each song has a funky, 80s style to them, but there Harry Styles also explores the mellow side with Falling and Fine Line.
Once fans hit play on the album, they have emerged into Golden. This song is about the honeymoon stage of each relationship. Harry describes the highs and lows that one expects about a relationship. Then, the three singles that he has released onto the radio stations play: Watermelon Sugar, Lights Up, and Adore you. These three songs have a very energetic feel to them. Additionally, they are your usual typical love songs.
As the album goes on, we meet the breakup and the self-healing part of the album. This part starts with the song Falling. This song shows Styles' vulnerability after the breakup. He does this by performing it in a piano ballad. Then, the songs afterwards are about self-healing, like the last song Fine Line. In the last song, he mentions that even though he has been heartbroken, he will be alright at the end.
In my opinion, this album is an 8/10. Harry Styles was able to put a lot of creative sounds in this album in a way that was cohesive and fluid. It is a very enjoyable album that many people could relate too. I would say it is the perfect album to dance, cry, and sing out loud.