Movie Review: The Farewell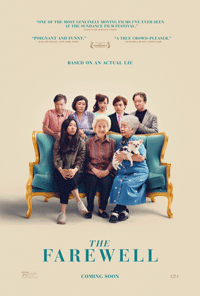 Directed by Lulu Wang, The Farewell is based on Wang's own experiences. It follows the life of Billi Wang, a Chinese-American who finds out that her beloved Nai Nai (grandmother in Chinese) has terminal lung cancer. However, instead of telling her, the family decides to hide the fact that she only has a few months left to live. Thus, a wedding was planned for Billi's cousin Hao Hao as an excuse for the family to gather and see Nai Nai one last time.
The movie authentically expresses the Chinese American experiences of having family in and out of the country and captures the differences between Eastern and Western cultures. Billi's mother had told Billi, "Chinese people have saying, when people get cancer they die." Of course, this is meant literally, but there is also a figurative meaning behind the remark too. As Haibin, Billi's uncle had explained in the movie, "You think one's life belongs to oneself. But that's the difference between the East and the West. In the East, a person's life is part of a whole- Family." The Wang family's decision to keep the secret helps alleviate the emotional burden of having cancer from Nai Nai. If Nai Nai knew, just like Billi's mother had said, she would die inside, knowing that she might become a burden to the family.
This is an amazing work produced by an Asian director that accurately displays what many Chinese experience. Starring Awkwafina, it is filled with comedy and melodrama, guaranteed to make anyone laugh and cry at the same time. It is perfect for people interested in having a closer look at Chinese culture or wanting to explore the differences between Eastern and Western traditions.