Taylor Swift's New Single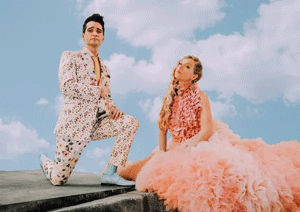 Hang on for a minute...we're trying to find some more stories you might like.
Over the last few weeks, Taylor Swift posted a lot of pastel-colored pictures on her social media, and fans believed that this was her way of hinting at a new song. The Swifties were correct, because on April 26, Taylor Swift released a single, ME!, featuring Brendon Urie from Panic! At the Disco. Seeing this video and hearing the song surprised me. After Swift's previous album, Reputation, she made it clear that the "Old Taylor" was gone. This song is more cheerful than the songs from Reputation. The music video shows bright and pastel colors, and Taylor even gets a new cat, Benjamin Button. In 24 hours, the video got 65.2 million views. This beat her record from Look What You Made Me Do, which got 43.2 million views in 24 hours.
However, some things have never changed about Taylor. Fans have already analyzed the song and concluded that Taylor was calling out Tom Hiddleston, one of her ex-boyfriends. The beginning of the video shows Taylor and Brendon having an argument in French, and Hiddleston is fluent in French. One of the lyrics of the song "I will never bore you, baby" also refers to Hiddleston because he supposedly left Taylor because she was boring. Taylor claims that this song was written to increase confidence and self-love, not to call out others.
Taylor stated in an interview that she has been working on another album, which she started right after she finished her Reputation tour. ME! was not the first song that was written for the album. Taylor chose to release the single first because of its catchy chorus. The album is meant to tell a story and not all of the songs will be as happy as ME!. Fans will most likely embrace the new album as they have done with all others.