The Jonas Brothers Are Back!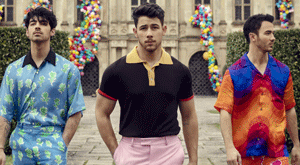 The Jonas Brothers are back and stronger than ever. After their break up in 2013, they have reunited to do what they do best: make music. This all started on March 1, 2019, when they announced they were going to release a new single called Sucker that was set to be out in every music streaming platform at midnight. Many former fans were excited about this news.
Throughout their comeback, they have stated that they had the idea to perform again when shooting a documentary about their lives. While filming, they had to open up some wounds that had led to the break up in the first place. After that, they're relationship got better, and soon realized that they still had some magic when singing some of their old songs like Lovebug and Year 3000.
To promote their single and comeback, they took over the Late Late Show with James Corden for a week where they have been doing interviews and performing live for the first time in six years. The Jonas Brothers had a secret show in New York at The Box Theater and performed all of their hit songs.
The Jonas Brothers are definitely back and have announced that their documentary is coming out soon and that they were working on many songs; therefore, people should expect an album in the works.