Movie Review – The Nutcracker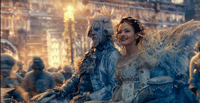 The Nutcracker and the Four Realms is a movie produced by Disney. It was released on November 2nd of this year, making it a fairly recent film.
The film loosely follows the story of the original Nutcracker tale. Clara, a young girl, travels to the magical, yet mysterious land of the Four Realms in search of a priceless, unique key which would open a box gifted to her by her late mother. However, in her journey to retrieve the key, she encounters several dangers that she must face in order to open the box and return to her home.
Surprisingly enough, the movie was able to retain a child-like innocence throughout its hour and forty minutes. This gave the film a wonderfully nostalgic, yet joyous tone. Personally, it reminded me of old fairy tales I read in the past when I was a child, like "Sleeping Beauty" or "Beauty and the Beast." The cast's stupendous acting, fused together with the amazing costumes and sets of the movie, managed to enhance this tone.
Plot-wise, the movie was magnificent! It's quick pacing helped keep me intrigued in Clara's mission, while simultaneously introducing me to the world around them, and its problems which would eventually conflict with Clara's desires. There was even a plot twist at the end of it, which I most definitely was not expecting!
Despite these good aspects to the movie, there were a handful of moments in which I actually ended up disliking some of the characters. Sometimes they behaved and spoke far too strangely.
However, that doesn't mean that this movie isn't worth a shot. It immersed me in a truly beautiful world and invested me in its creative cast of characters. The movie, in short, was great, and should be viewed by many more people in the future.