Small Conventions Are Great Too!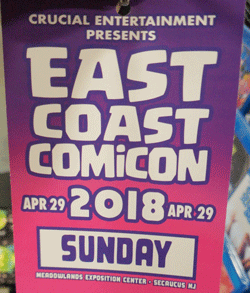 Athena Kiriakoulis, Staff Writer
May 4, 2018
Comic Con is one of the largest pop culture conventions in the United States. Millions come to these events, cosplaying with amazing costumes, meeting famous actors in panels, and buying tons of cool merchandise. Sadly, tickets for the main comic con in San Diego sell out quickly even though they are expensive. However, there is still hope for those who don't have the time or the funds to go to this Comic Con. Many smaller conventions pop up during the year that are just as fun. For instance, the East Coast Comic Con opened for three days last week and it was a blast.
The East Coast Comic con might have been smaller than other conventions, but it was still just as much fun. A plethora of colorful kiosks were scattered about the event, selling everything from art, to comic books, to even chocolate. Many were dressed as their favorite characters, in groups and alone. There were also some known actors and memorabilia from popular television shows, including the batmobile! All in all, this convention was amazing, proving that smaller conventions can be good alternatives to the main events.