Movie Review: Black Panther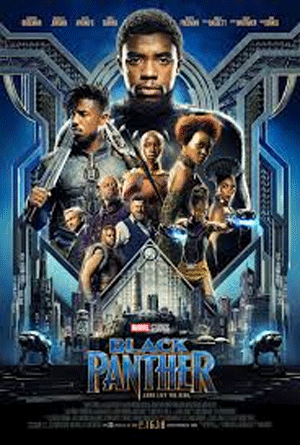 Once again, Marvel Studios has created another cinematic masterpiece of a superhero movie! Black Panther stormed the box office shortly after its first showing, already grossing over $763.3 million dollars! (According to deadline.com) The movie includes the first all African-American lead cast and is currently being hailed for its accurate representation of African people, primarily those from Ethiopia.
The fictional country of Wakanda, where the movie is set, is based on Ethiopia and other poor African nations. However, without giving away too many spoilers, the people of Wakanda have a huge secret from the rest of the world–which becomes King T'Challa's responsibility to protect. Onto special effects! The movie is absolutely gorgeous to look at; there are many takes on traditional African clothing and hairstyles with added futuristic twists, of course. Overall, the colorful flair seen in many African robes is present in the film, making it very appealing to the eye.
In addition to featuring a revolutionary all-black superhero movie cast, Marvel was very successful in establishing more loveable heroes in this film. The Black Panther himself, T'Challa (played by Chadwick Boseman), exhibited a great deal of bravery after the death of his father in a previous movie, Captain America: Civil War. In Black Panther, T'Challa also has a sister named Shuri (played by Letitia Wright), a talented genius who makes her brother's infamous Black Panther suit as well as many of his weapons. Both are engaging and interesting characters, and fans will be eagerly awaiting T'Challa's return in Avengers: Infinity War coming this April. Wakanda forever!