Razzoli's Little Italy: Restaurant Review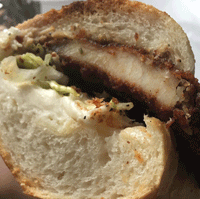 Resting on the corner of Ridge Road and Jauncey Avenue, Razzoli's Little Italy opens from Tuesday through Friday at 9am sharp and closes at 8pm. This small Italian eatery is the perfect place to go for an Italian sub and makes some of the nicest Italian food you'll ever taste. The prices are very reasonable and for someone looking for a big lunch, this is the place for you. My brother and I have ordered our lunch from this restaurant quite a few times and been full after every meal. The quality of the ingredients is ideal, and there is a wide selection of toppings for all the sandwiches. Everything from banana peppers, balsamic vinegar, lettuce, tomato, onions, pesto, gravy, various cheeses and meats are available to make your sub taste amazing. Razzoli's offers other dishes as well, including salads and wraps. Some of their desserts include the large cannoli which was fantastic and tiramisu. It's also a great place to pick up a quick coffee, including classic Italian blends such as an espresso or a cappuccino.
As for our meal, my brother got a meatball parmesan sandwich with mozzarella cheese on garlic bread. I got a chicken cutlet with mozzarella, lettuce, and balsamic vinegar on garlic bread, and both of our meals were delicious. After the walk home, the sandwiches were still warm and wrapped nicely. They were piled with ingredients, and the meat and cheese were not skimped on. Some delis just fill the whole sandwich with lettuce and two slices of meat, but this clearly wasn't the case for Razzoli's Little Italy. The servers there are very friendly and easy going, and the décor makes the place have a charming, quaint atmosphere. Overall, it's a 10/10 restaurant and I'd highly recommend it.