Weehawken Band Festival 2018!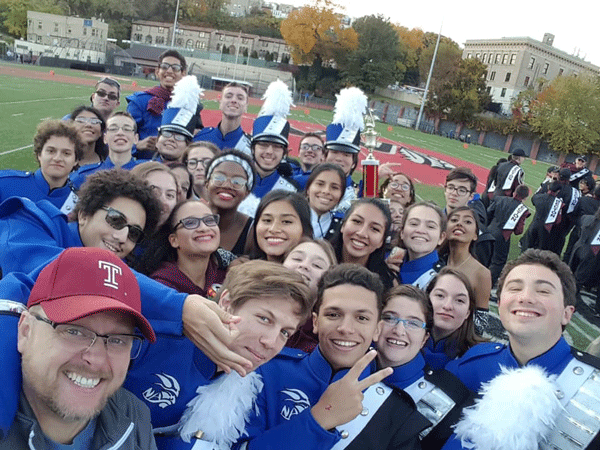 Hang on for a minute...we're trying to find some more stories you might like.
It was the perfect weather for a performance- Sun shining, crisp breeze blowing over the field, and not a cloud in the sky. The gentle breeze ghosted through the plumes of the marching hats and tugged at the corners of colorful flags, and everyone was lined up and ready to take the field. Each year, the Township of Weehawken hosts an invitational festival for high school marching bands at Weehawken Stadium. Our very own North Arlington High School Marching Band and Color Guard has had the honor of being invited to the festival many times. After enjoying a wonderful bagel breakfast provided by the Viking Music Parents and two practice sessions, the students were fully prepped for their performance.
This year, our band performed their repertoire of Latin-themed music: Aztec Fire, Pump It, Surf, and El Gato. As always, the students put on a stellar show. Even with all the tricky pivots and other such movements around the field, both the band and the color guard went through the choreography with great precision. Their sound resonated with all in the crowd who cheered up until the end when the last flag was caught and the final note was played. At the ceremony, the senior members, drum majors, and color guard captains were presented with a participation trophy and did this year's drum major salute. The rest of the band ran to embrace their officers and Mr. Kastner led one final "Eyes With Pride" chant as everyone held up the trophy together.
Drum Major Jennifer Garcia had a lot to say about the event, "Yesterday was my last performance in the marching band; it was such a wonderful experience to have performed with everyone. This year we have a small band, but even though we are small we still play with a great sound as if we had 100 marchers on the field. Leading this band was the best experience ever, I'm really going to miss playing with everyone and I'm proud to have worked with this talented group as drum major."
Color Guard Captain Shamira Contreras also thoroughly enjoyed the festival, "It was an amazing experience because all the hard work that the guard put in paid off. It was honestly one of our best shows for the entire season and the amount of cheers that the guard got was very encouraging and uplifting for us. Being a captain this year was a lot of work, [but] seeing how much the guard grew throughout the season was definitely worth it."