Senior Spotlight: Michael Manzo-Lewis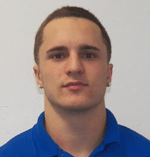 Michael Manzo-Lewis is a very well-known student in North Arlington High School. He described himself as a charismatic, joyful, and loving person. Michael has been the starting quarterback for our football team for the past two years. A devastating ACL tear ended Manzo-Lewis' season early last year and had him itching to get back on the field. This year he is rising to the occasion, with 464 passing yards and 541 rushing yards with a total of twelve touchdowns. Mikey is determined to give all he's got for his last year as a Vikings' football player.
"You miss 100% of the shots you don't take" is the motto that "Mikey" lives by. Throughout his high school career, he has always been an overachiever in math class, which is his favorite subject. He plans on going to college, and if the opportunity presents itself, he will also play sports. Michael's advice to the underclassmen is to do as much as they can while they're here since these four years go by rather fast!