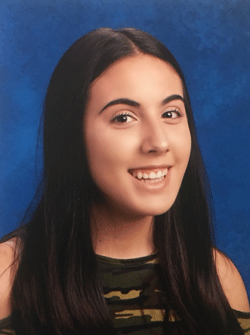 Elena Yared is a sophomore at North Arlington High School. She is a member of the bowling team, drama club, and, of course, the Viking Saga. In her free time, she enjoys writing stories, poems, and likes reading. One of her favorite novels is
A Tree Grows in Brooklyn.
Elena also enjoys listening to, and learning, songs from various musicals and Disney movies. She sees journalism as a prominent feature in her future, and hopes to one day travel the globe and document her experiences.
Elena Yared, Staff Writer
Oct 31, 2019
Jun 18, 2019

Tri M's Lip Sync Battle 2019

(Story)

Jun 11, 2019

Multicultural Night 2019

(Story)

May 31, 2019

Up Close and Personal with the Cast, Crew and Director of Mamma Mia

(Story)

May 07, 2019

Paris Treasure Destroyed

(Story)

Mar 21, 2019

Winter Sports Awards 2019

(Story)

Feb 25, 2019

Drama Club 2019 Musical

(Story)

Dec 21, 2018
Nov 20, 2018

College Choices for All

(Story)

Oct 26, 2018

Activities Fair – NAHS

(Story)

May 04, 2018

NAHS Drama 2018 Presents…

(Story)

Mar 22, 2018

The Year of the Dog

(Story)

Feb 12, 2018