Rookie Makes MLB History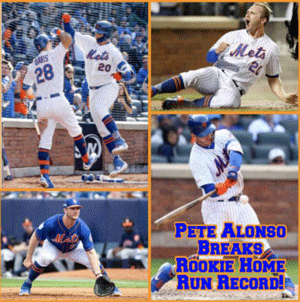 On September 28, 2019, Mets player, Pete Alonso made MLB history. He broke the Rookie Single Season Homerun Record. This year is the first year that Alonso played in the major leagues. This is impressive because there is a huge difference between the minor and major leagues. Alonso didn't really have an idea as to what to expect. Alonso was a starting first baseman. Alonso played third base for his team in Henry B. Plant High School. Alonso attended the University of Florida and played first base.
Before Alonso broke the record, Michael Judge held it for 52 homeruns. Todd Hundley, a former Mets player who broke Mets Single Season Homerun Record with 41 homeruns said that Pete Alonso was "…more than a power hitter, he's a pure hitter. I have seen five or six of his games and he keeps getting better and better. He has just had a tremendous year." Carlos Beltran, who tied the record with Todd Hundley says, "It's a pleasure to have a fine young player like Pete Alonso break my record. I have not met Pete personally but people have told me he plays the game with passion and doesn't give up on any at-bat. He has had great success in his first year."
Pete Alonso also had custom cleats created for his team members. Each pair of cleats was to honor all of the firefighters, policemen, and first responders that passed away on 9/11/01. Alonso plans to donate his cleats to the 9/11 Memorial and Museum.
Before Alonso broke the homerun record, the crowd was cheering for the "Polar Bear". Many fans had their phones out filming Alonso's at bat. The first pitch Alonso swung hit the ball, which bounced off his knee. Every fan in the stadium felt that pain! The second pitch, Alonso swung as hard as he could, and the ball was in the stands. Alonso watched the ball as it descended from the air in wonder. After a fan caught the ball, Alonso rounded the bases and came back to a dugout celebration. The stadium erupted in cheers. Even Braves' fans were cheering. Colleagues and coaches all congratulated Alonso for breaking the record. All of those batting practices from when he was a child to that moment truly paid off! After the inning ended, Alonso was shown with a few tears from his eyes while playing in the field.
This season was a wonderful way for Alonso to start his career in the major leagues. Congratulations to Pete Alonso and the Mets!