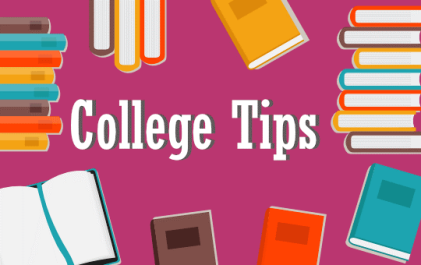 So, junior year is over. You're in the homestretch now, you only have a year left in high school, so what's left? Next September will be the beginning of the end, a time for all of the "lasts": Last first day, last homecoming game and dance, and the last fall pep rally to name a few. While the fun activities are the best part, senior year will be full of highs and lows. I remember the first few months of this year like a blur because of how fast it went. Between marching band practices and competitions, taking my last SAT, Halloween with friends, getting my letters of recommendation lined up, and enjoying the fall season by going to the farm with my family, I made so many memories during the fall. It was a busy time for sure, and while I had fun, I had a huge choice to make about my future like all seniors do. While it is absolutely true that college and higher education are not for everyone, if that is the path you chose, here are some tips:
Prepare a list of schools to apply to. Find out if these schools will give you an application fee waiver. Even if you don't think you qualify for one, check! Some schools will give you a fee waiver to apply if you just send them a nice email asking for one, and some schools even give them out for visiting the school for a campus tour. If you're looking to maximize your applications, fee waivers will help keep the cost low. Make sure to keep this list diversified with plenty of safety, target, and reach schools so you can capitalize on your options. Also, make sure the colleges have your major! This may be a silly step to take, but I saved myself a lot of money by looking up my major on the websites of colleges I was interested in and I was shocked to see that some of them didn't have what I wanted to do. This step is essential if you want to save money!
Make an account on the CommonApp website. Many schools you're applying to will be on the CommonApp and you can use the same letters of recommendation and essays for each school to save yourself some work. Be careful, though, because sometimes schools require supplementary material to apply. For instance, some schools like NYU and Fordham require the CSS and the FAFSA to apply in order to calculate your financial aid. The CSS application costs extra money, but you'll need to do it if your college makes it mandatory.
Get your letters of recommendation early! Do not just ask your favorite teachers two weeks before you need to send in your application, they are probably busy with a long line of letters to write and it is important to be courteous of their schedule. If you're applying for Early Decision or Early Action, ask for your letter(s) in September to give the teachers plenty of time to write them. Also try to get one from a person who isn't a teacher as well. Most schools require one from a guidance counselor and one from a teacher, but if you have extra spots maybe ask another teacher or employer to write one as well. This will give the school multiple perspectives on you as a person.
Research what good and bad college essay topics are! There are many misconceptions about college essays and it can be hard to think of a topic that best fits you. Some suggestions to keep in mind are that the college admissions counselors are looking to see what kind of person they want at their school. While they read your essay, they are asking themselves if you would be a good person to have on their campus. Do not write your essay like an extended resume. The admissions team can see your extracurriculars and academic achievements on the rest of your application. Try to highlight an experience you had where you showed one of your good qualities like strength, leadership, endurance, creativity, or passion. Also keep in mind your essay does not have to be the most exciting or overhyped story in the world; you can keep it simple.
Know your options for applying! The difference between Early Decision and Early Action is drastically different and applying early might increase your chances of getting into the school. I wrote an article explaining the different admissions paths that exist, which you can read here: https://www.nahsvikingsaga.org/news/2019/12/05/paths-for-admission-to-college/
Do not take the SAT too many times! There have been many studies that show that the scores don't improve by much after the third time the test is taken, and each test costs a lot of money. There are plenty of amazing test optional schools out there as well if you really aren't confident in your score.  Remember, the SAT isn't the only consideration on your application.
Look up how big the applicant pools for your desired colleges are! Some schools that are growing in popularity such as TCNJ are receiving more applications each year. Rutgers, for example, had over 40,000 people apply! Try not to feel heartbroken if you don't get accepted to a school with a huge application pool like the Ivy League colleges or NYU; these schools can have over 100,000 people applying. Being rejected doesn't always mean you're less qualified, there are just limited spots available.
Once you are accepted into a few schools, don't always jump to commit until you see all your offers! If you apply early, you have plenty of time to negotiate with the financial aid offices of the colleges you were accepted to and you might even be able to bring your tuition costs down beyond federal aid. Don't wait too long to commit, but if you can get a better deal, take it!
Reject the offers for the schools you will not be attending! Some colleges have huge waitlists and if you don't plan to attend that school, make sure to log into your portal on their website and formally reject their offer of admission. This step may not be as important for you, but it can free up your spot for someone else on the waitlist of that school.
 After you enroll in your desired school, remember that it isn't over! Colleges will always have required surveys, health forms, and other documents you will need to send in order to get started at the school. Check your student portal on your college's website frequently.  There will be online entrance exams, sexual assault and alcohol and drug abuse training, etc.  You may take a quiz to find a suitable roommate if you choose to dorm, and you may meet with an academic advisor to plan your schedule. Most importantly, remember that high school is not over. While it may be tempting to give into senioritis and stop caring, your college will still get a final transcript with your grades from the third and fourth marking periods! Continue to be careful with what you post online, with your disciplinary record, and focus on your grades, and you'll be set to finish the year strong. 
As always, remember that your decision should be based on your own situation. These tips are based on my time applying to college, but everyone's experience is different. While advice from others can be helpful, it will ultimately be your decision at the end of the day on where you'd like to go to school next year. Applying and enrolling to college will be one of the first steps taken into your adult life, so it is important to do your research and make the best decision for you.