Movie Review: Rogue One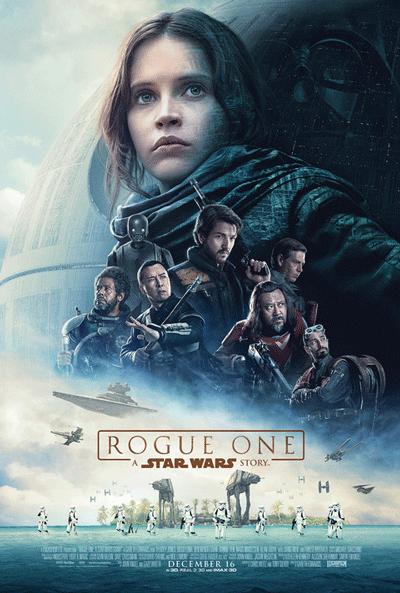 As someone who has grown up with Star Wars, I was pretty excited to see one of the newest Star Wars movies in theatres- Rogue One. Lured in by the promise of a different spin on the sci-fi movie franchise, I was hyped to the see the movie. Plot wise, the movie was quite suspenseful. Many of the scenes carried tense action and edge-of-your seat moments. The story revolves around a few different stories, mostly focusing on a young woman named Jyn. She had been in hiding until the rebel alliance needed her help in solving the case of her father's disappearance while a stray pilot, Bodhi Rook held a deep secret that the rebellion desperately needed. With the help of a rebel soldier, Cassian Andor, Jyn and the rebels push forward to fight against the Empire and secure Bodhi's secret weapon.
One of the finest things about the movie was the sheer diversity of the cast. Growing up, I remember seeing Princess Leia (Carrie Fisher) on the screen. She was one of the only women I remember from the movies, and definitely the most prominent aside from her mother in the movies (Padme Amadala). There were always male lead characters and fighters. There was certainly nothing wrong with their acting, it just would have been nice to see a strong female character. Jyn, played by Felicity Jones, stunned us all with her performance and showed girls everywhere that there can be a female fighter who single handedly helped save the galaxy. Aside from that, there is a lot of racial diversity in the new Star Wars movies as well. Cassian Andor was played by Diego Luna, a proud actor of Mexican descent. Donnie Yen, who played Chirrut Îmwe in the movie, is Asian-American. It is very pleasing to see how Star Wars evolved, portraying more diverse characters up on the big screen.
Hopefully, other filmmakers can see the success of the Star Wars movies and start representing America's diversity in the movies. We are essentially a melting pot of different people, from all different backgrounds. We are all diverse, and everyone should be able to see people like them acting in blockbuster movies. Needless to say, Rogue One was a smash hit and I highly recommend it.