Welcome Mx. Lemley!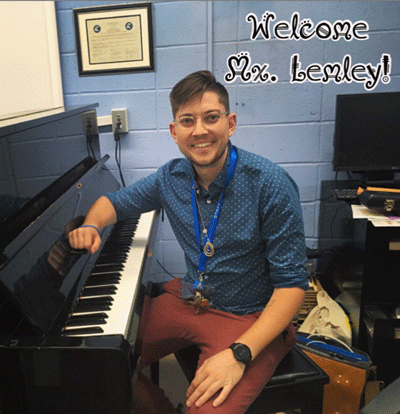 Now that the new school year has begun, we would like to officially welcome Mx. Lemley to NAHS as the director of bands and chorus! Mx. Lemley attended The College of New Jersey for their undergraduate degrees in music and women's and gender studies. Mx. Lemley then went on to attend Montclair State for graduate school where they participated in a dual-degree program, earning a degree in teaching music and teacher of students with disabilities.
Since marching band season is upon us, Mx. Lemley described their enthusiasm for the season, "I'm so excited to get the fans riled up at the football games and for 'The Nightmare Before Christmas' because the students seem really into the theme!"
As for teaching music, Mx. Lemley described a firm but fun approach to teaching, "Music should be fun; but in order to have fun, you still have to work hard. I like to get to know what kind of music students like, and in choir I like to reward the students with karaoke at the end of class. In band, we're trying out something where students get more opportunities to learn how to play solos. My approach is trying to figure out what interests everybody and find some common ground, because music is deeply personal."
On a personal note, Mx. Lemley has spent a large part of their life (7 years) working for LGBTQ+ advocacy groups and identifies as transgender, "I used to work in LGBT campaigns for a living, so I worked in Maine and in Ohio to help win marriage rights. Once I went back to grad school, I did more LGBTQ+ advocacy within education."
When asked what it is like to be a transgender teacher, Mx. Lemley responded simply, "It's different in a lot of ways and the same as being another teacher in a lot of ways. I am not a Mr. or a Mrs., so I am a Mx. It's a lot of little things- Like, I grew up as a girl, so during prom season the girls were asking me questions about their nails and I actually had answers. Also, most people have never practiced referring to someone as 'they' so that takes time, but North Arlington has been very lovely."
Another interesting fact about Mx. Lemley: They are a vegan, "First off–I'm not a very strict vegan, so for example I still eat eggs. But I love making vegan tacos.  You do all the veggies you would for tacos, you press some tofu and crumble it up and get some olive oil going. Brown it a little bit–doesn't need to be crispy–and start putting taco seasoning all over that, and add water and mix it up some more. Once the water is absorbed, you can add vegan cheese. Tofu basically tastes like whatever you season it with, and then you can put whatever you want on it. I always say you're in charge of your own happiness."
As for their free time, Mx. Lemley enjoys biking and running, but has their hands full with a new puppy, Bear, "One minute he's destroying all his toys and the next minute, he's like 'Rub my belly!' I'm a chill dog parent; I can run around with him when he needs to.  But me and lazy puppy, I'm about it."
When it comes to daily life at school, Mx. Lemley said their favorite part about NAHS so far is the students and their humor, "Y'all are hilarious, I've consistently felt like you guys could put on a comedy show.
On a final note, it is exciting to know that the marching band will be performing in 3 competitions this year, including Tournament of Bands' show and the North Jersey Regional Championships!