Burning Horror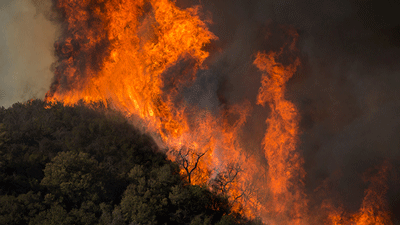 Hang on for a minute...we're trying to find some more stories you might like.
California has been facing wildfires for the past few years. The fires have caused thousands of people to be forced to evacuate their homes. Many buildings and homes have been damaged due to the rapidly spreading fires. Powerful wind patterns have been carrying the flames from forests to the residential areas of California. The dry climate of California caused by droughts make the vegetation to dry up. The dry vegetation is easily flammable which causes the fires to ignite quicker, last longer, and happen more often. In the past few years, there have been record breaking heat waves, and a significantly less amount of rain. In fact, California is now known for its frequent droughts.
But if the fires are happening in areas with high vegetation, how come they are affecting so many people in cities? A LA Times article by Priya Krishnakumar and Joe Fox answers that question, "…the edges of cities have cities have encroached on wild spaces…The close proximity between private property and wild lands allows fires to spread more rapidly and damage or destroy more property in the process." The fire in Paradise California has been the most recent and destructive fire that California has seen. It occurred in Northern California on Thursday, November 8, and it has been described as, "… a rural fire that turned into an urban nightmare…" (Egel, The Sacramento Bee). A majority of the town's homes have been burned and approximately 80 people have died with countless still missing.
So far in 2018, there have been 5,638 fires, and they have destroyed 621,743 acres of land (cdfdata.fire.ca.gov). More action needs to be taken for preventing these fires. The damage of the fires has been increasing, and the homes and lives of California residents are being decimated. There is not a simple solution; however, scientists have created a "planned burning" method. This involves burning a section of a forest, which can control the fires (that naturally occur). Hopefully, the "planned burning" method will work, even though it requires a lot of effort from many people.