Activities Fair – NAHS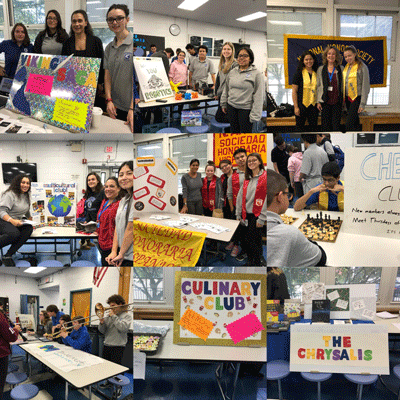 Hang on for a minute...we're trying to find some more stories you might like.
On October 18, North Arlington High School had a club fair to show off all the different extracurricular activities it offers students. The freshmen and sophomores were able to see just what their school has in store for their upcoming school years. Club and extracurricular organizations designed poster boards detailing all of the activities and opportunities created by each entity. Some, such as the band and the robotics club, had actual demonstrations. At the band's station, a selection of upperclassmen performed a piece for everyone's enjoyment. The robotics club made a fully-functioning robot, which was very impressive.
Other tables presented some of their past projects, like the plays performed recently by the drama club. The advisors of the yearbook club, Mrs. Tomko and Mrs. Burns, displayed a series of yearbooks they published, showing just what a dedicated group of students can accomplish. The advisors of the school's newspaper, Mrs. Albuquerque and Mrs. Ingannamorte, printed a plethora of awesome articles written by student staff members and published in their online edition of The Viking Saga.
Overall, the activities fair was a huge success, with a lot of the clubs recruiting new, excited members. Some require a major commitment, while others are less time-consuming. Some are centered on the arts, while others use their members' knowledge in math and science. Either way, there is a club for each individual at the school, and an opportunity for them to use their gifts in a fun way while contributing with pride to the school spirit of North Arlington High School.